24 Apr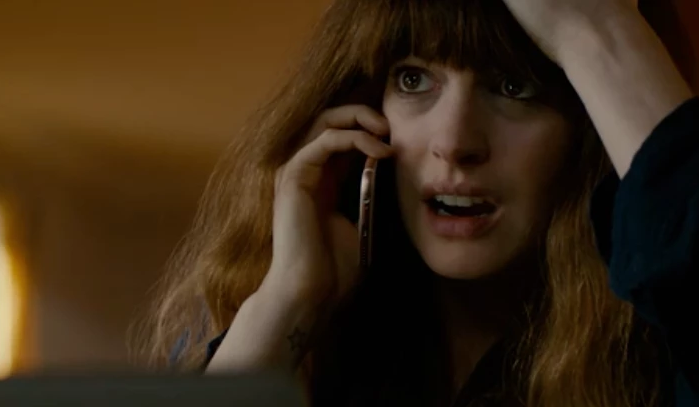 As anyone who watches a lot of movies can attest, many of them feel like variations on movies we've seen several times before. I doubt anyone could say that about Colossal. It's no wonder that the marketing for the movie sold it as more of a comedy than it really is. When the premise involves a woman realizing that her actions when standing in a certain place at a certain time of day (thank you, Dr. Jones) conjure up an enormous Godzilla-like creature in Seoul, South Korea, it's hard to know how to sell that as a drama about the destructive nature of alcoholism.
We first meet Gloria (Anne Hathaway) hungover, as she feebly lies to her frustrated boyfriend Tim (Dan Stevens, Downton Abbey) about where she's been all night. This is not the first time this has happened and the film does a nice job right away of establishing how big of a mess Gloria is making of not only her own life but of the lives of those who love her. Tim very understandably has had enough and has taken the liberty of packing her bags for her.
With nowhere and no one else to turn to, Gloria goes back to her home town to live in the empty house her deceased parents left behind. She attempts to get her life in order with the help of childhood friend Oscar (Jason Sudeikis, Horrible Bosses), who offers her a job at his bar and to help her with her living situation. By the time she first learns of a gigantic monster appearing on the streets of Seoul, the whole world has already been talking about it for half a day. Soon though, she begins to connect the dots. She has no idea how it's happened, but she discovers that she is in fact, the monster.
Written and directed by Nacho Vigalondo (Timecrimes), Colossal is less a quirky take on monster movies and more an inventive way to examine alcoholism, friendship, and emotional manipulation. In that sense, it recalls Edgar Wright's The World's End, though that was decidedly still a comedy throughout. Here, the slightly comedic tone early on gives way to something much more serious. Gloria takes the damage she has caused- albeit unintentionally- very seriously, as one would were this science fiction premise come to be a reality. It would be hard to say more than that without giving away some major plot points and surprising developments through the film's second half.
While Vigalondo certainly makes some choices that are debatable over the course of Colossal and its relatively short hour and 50 minute running time feels a bit longer than necessary, it remains absorbing in every scene from beginning to end. If it were a book, it would be described as "a page-turner." It's a movie that doesn't feel in any way familiar and it's never clear how it will play out right up to its final shot. The performances of Hathaway and Sudeikis work strongly in Colossal's favor as well. The dynamics of their friendship through the film are played so intelligently by both of them. They both add subtle, interesting notes to everything they do and they're particularly strong in their scenes together.
Tim Blake Nelson (O Brother, Where Art Thou?) and Austin Stowell (Bridge of Spies) get some good scenes as Oscar's late night drinking buddies and while Stevens does his best with Tim, he's still a perplexing character in the sense that Vigalondo doesn't seem to know what to do with him. It is perfectly fine for a filmmaker or actor to leave it up to the audience how they're supposed to feel about a character (I wish more movies would be willing to do that sometimes), but this comes across more like Vigalondo isn't quite sure about it himself. Strengthening that would have strengthened the movie.
It will be interesting to see how Colossal fares on a second viewing. Questionable elements may prove to be more thought out than I'd realized or they might prove to be flaws that can't be dismissed. Either way, I look forward to seeing it again it's exciting to see and recommend a film that I can honestly say earns the descriptor unique.