8 Jan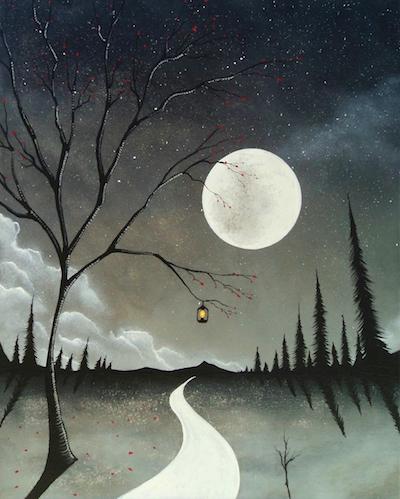 I recently discovered the work of artist Owen Klaas. He is a painter who sells his work through his company Fiendish Thingies. When I first saw his paintings, I was astounded. These pieces were dark and moody, and seemed to owe a lot to the German Expressionist films of the 1920s. They were primarily landscapes, featuring bare, ragged trees, angular mountains, and lonely paths winding through the darkness. It's what the world would be like through the eyes of Dr. Caligari.
And yet these paintings were not altogether hopeless. They did not seem to be mere exercises in a melancholy, eerie tone. Were they simply that, I don't think I'd have looked twice; I'd have noted the unique visual quality and moved on. However, there was something about Klaas' work that grabbed me. Within most of the paintings, in the midst of harsh and drab landscapes, there was often a single element that stood out; a splash of color or vitality that broke up the isolated sadness of this world.
This was most clear to me in his piece "Light My Path". In it, we have a large, ominous full moon shining down on a mountainous forest. In a clearing, however, we have a lone tree, leafless and skeletal. This tree grows next to a narrow path that winds its way towards the far off mountains. Hanging just above the path, from the lowest branch on the tree, is a lantern. It is lit, but doesn't seem to give off much light. Just enough to illuminate this specific section of the path, it would seem.