12 Dec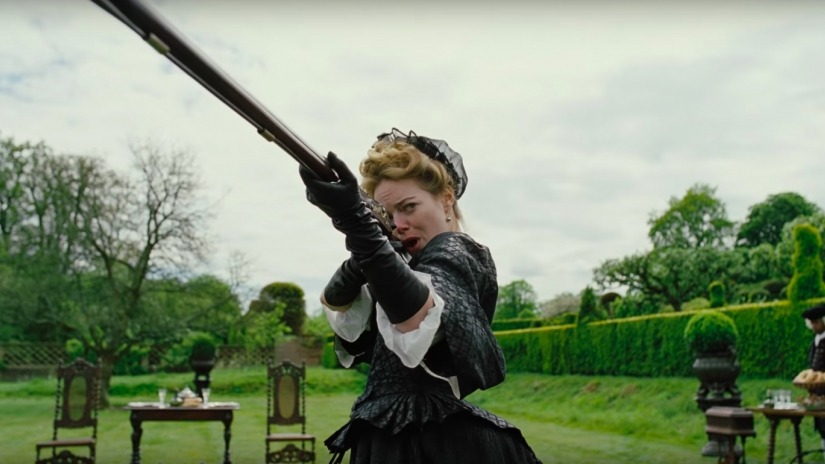 There is a different version of The Favourite that could have been made. The traditional, staid period film that would have felt like so many others. Like anything else, this can be – and has been – done well. However, it can also be the kind of filmmaking that keeps the audience at a distance and that can make the past feel like a relic even to the people we're watching live it. But screenwriters Deborah Davis and Tony McNamara and director Yorgos Lanthimos (The Lobster) had something significantly more vibrant in mind. A film that despite its setting, costumes, and lack of modern technology feels as though it's in the present. All the better because for its fascinating real life characters, it is.
In the early years of the 18th century, Queen Anne (Olivia Colman, The Night Manager) rules England with her most trusted friend and advisor, Sarah Churchill (Rachel Weisz) by her side. Sarah's most valued trait is her complete honesty with Anne in any and every situation. Preventing Anne from meeting with a delegation from Russia wearing makeup that makes her "look like a badger" is a normal part of Sarah's day.
Sarah also spends much of her time aiding Anne through her various ailments, including a terrible case of gout. What Sarah gets out of this is the ability to manipulate the emotionally and intellectually stunted Queen into making decisions that affect the whole of England. Not minor ones either. They're decisions such as whether or not to continue a costly war with France.
Sarah's younger cousin Abigail Hill (Emma Stone) meanwhile, is in search of work after her father squandered away her family's previously respected position. Starting off as possibly the lowest of the low within the kingdom, Abigail is able to ingratiate herself to Anne when she finds a remedy for the Queen's debilitating leg pain. Sarah takes this act of kindness for what it is: a threat to her position with Queen Anne and more to the point, her own position of power. A rivalry for the Queen's favor has begun.
With a screenplay co-written by an historian (Davis), one would expect the film to be greatly concerned with historical accuracy, but the filmmakers play fast and loose with fact in the name of telling a good story. There's nothing inherently wrong with or unusual about that. It feels even more acceptable here though because The Favourite never presents itself as the kind of reserved period drama it might have been. 
The makers of The Favourite aren't content to simply tell a good story. Their real interest is in the way they tell it. Often wickedly funny and generally dark in tone, visually it's reminiscent of Barry Lyndon, with sharp dialogue occasionally along the lines of Becket or The Lion in Winter. This proves to be a wonderful approach to allow the film to examine the motivations Sarah and Abigail have in their dealings with Anne.
While Sarah and Abigail are enemies, each with the aim of being the Queen's closest confidant, their reasons are different from one another's and each views Anne in their own distinct ways. This leads into perhaps the most compelling aspect of The Favourite. The idea that there's often a difference between the reasons people believe they help others and their real reasons for doing so. Each manipulates Anne to their own ends but it's not as simple as that.
Particularly in Sarah's case, she sees herself as a mother to Anne in some respects. She'll openly ridicule the often petulant Queen, but for what she considers to be Anne's own good. However selfish and controlling Sarah may be, her relationship with Anne goes a long way back and a part of her wants to believe that she's there for Anne out of love.
Abigail meanwhile wants to uphold a belief in her own loyalty though it's more in a general sense than anything specific towards Anne. After all, she hasn't been there long. "I'm on my side," she comes to realize. "Always." As she embraces this more fully the battle between her and her cousin escalates.
For her part, Anne is desperate to connect with anyone. In addition to her health problems, Anne's had no fewer than 17 pregnancies which all ended in tragedy, leaving her utterly despondent (this is historically accurate- 12 were either stillborn or miscarried. Of the other 5, only one survived past the age of 2. He died at 11).
The Favourite weaves between comedy and tragedy, sometimes blurring the line between the two. All three leads are excellent, Colman in particular as the lonely, heartbroken Anne. Weisz and Stone meanwhile each bring layers to their venomous characters, their scheming coming out more out of desperation than anything else. Nicholas Hoult is terrific as well in the role of a cunning politician.
Armed with one of the sharper screenplays in recent memory and exquisitely shot by cinematographer Robbie Ryan (who brings a liveliness to the look of the film), The Favourite is one of the better and more distinctive movies of the past few years. See it the first chance you get.