18 Jul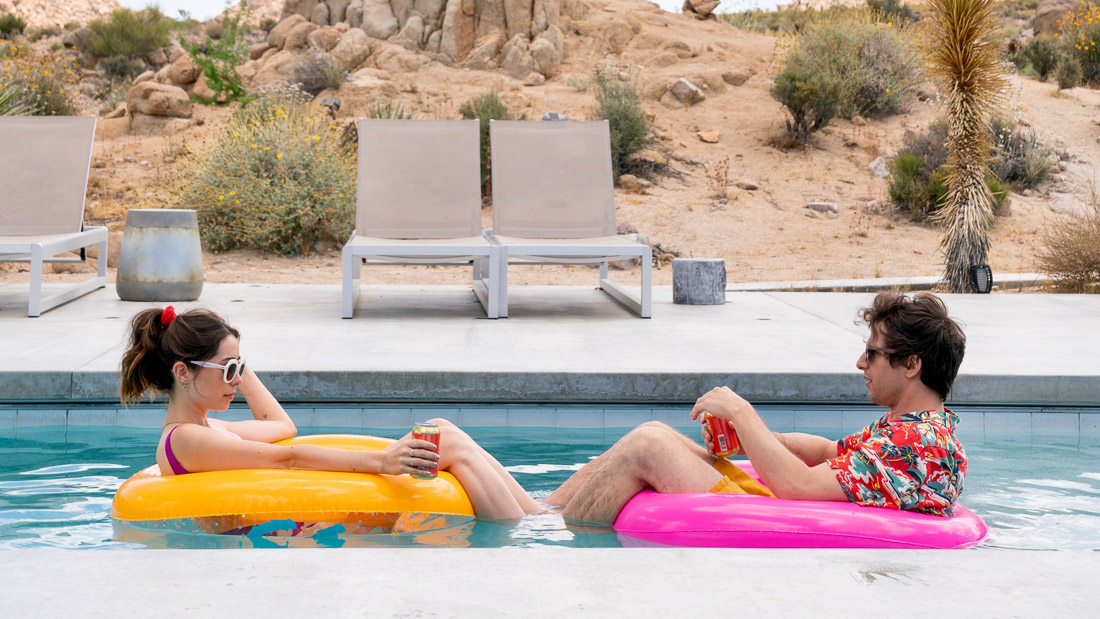 Going into Palm Springs, I had not seen a trailer. I knew who the two leads were and a friend of mine had told me she'd enjoyed it. That's it. So when it very suddenly becomes something more than a standard rom-com about 15 minutes in it comes as quite a shock. If you have not watched the trailer and want to go into the film completely unspoiled then I recommend simply going to Hulu and watching the movie before reading the rest of this review so you can be as surprised as I was. Also, that makes this easier for me as it's really impossible to review Palm Springs by dancing around the bulk of the movie.
For those of you who have seen the trailer then you know I'm talking about the fact that this movie's built on, "one of those infinite time loop situations you might have heard about." The man caught in that infinite time loop is Nyles (Andy Samberg), who by the time we meet him has been stuck reliving the same day for quite a while. He's at the point where he no longer even knows how long it's been. To make things worse, it's the day Nyles discovers his girlfriend Misty (Meredith Hagner) cheating on him at the wedding reception of one of her friends. And it happens every single time.
During the first version of the reception we see, Nyles drunkenly toasts the bride and groom, while making firm eye contact with the bride's sister Sarah (Cristin Milioti). Is it completely off the cuff or has he perfected this speech over potentially years? Given Myles' philosophy of, "making as little effort as possible," it's probably the former but either way, he makes a strong impression on the wedding guests, none more than Sarah. Soon the two go off into the nearby desert to spend some time alone together, but they're interrupted by a crazed man named Roy (Oscar winner and American Treasure J.K. Simmons) attempting to murder Nyles with a bow and arrow. Bleeding and only able to crawl into a nearby cave, Nyles warns Sarah not to follow him inside. She does not heed his advice and now Sarah has become caught in the time loop as well.
From here, anyone who's seen a romantic comedy knows the general steps Palm Springs is going to take with the relationship between its two leads. Even the infinite time loop premise has started to become a well-worn one and the most famous example of it, Groundhog Day, is also at the end of the day a romantic comedy. But what makes Palm Springs such an enjoyable experience is what makes any good rom-com an enjoyable experience: it cares about its characters and is legitimately funny. This begins with a thoughtful script from Andy Siara (his first) and the equally thoughtful direction of Max Barbakow (his first full-length film). The conversations between Nyles and Sarah feel honest while also being very funny. This isn't so much a jokey comedy as a dual character study where neither person realizes that they're funny. Nyles is trying to amuse himself but that's borne out of his sense of boredom and terrible depression. In a dark moment, he admits to Sarah that he has committed suicide countless times, only to always wake up again at the start of the day.
As Nyles and Sarah, Samberg and Milioti both wonderfully bring their characters to life. Samberg has proven himself already as the lead of the long-running Brooklyn Nine-Nine, but here he shows the depth he can bring as the lead of a 90-minute movie and he's very impressive. Not falling into the trap of "performing" that some Saturday Night Live cast members struggle with in films, he gives Nyles a real beating heart. Milioti does terrific work as well, having to play the greater roller coaster of emotions as the character who is new to life in a time loop. They play off of each other perfectly and it's impossible not to like Nyles and Sarah a lot, even when one of them is at their worst.
The supporting cast is solid enough but this is really Samberg and Milioti's show, with the occasional reappearance of Simmons as the bitter Roy, who blames Nyles for getting him stuck in the loop too (and he does have a point). Simmons is great because he's J.K. Simmons and he's always great.
Palm Springs doesn't reinvent anything but it does everything it sets out to do with cleverness and heart. It's funny the whole way through, the emotional beats are all earned, and we like both leads and actually want them to get together in the end and make it to the next day together. That is exactly what a movie like this should be and there have been few better examples of it in recent years. This is a movie almost anyone will enjoy.