2 Sep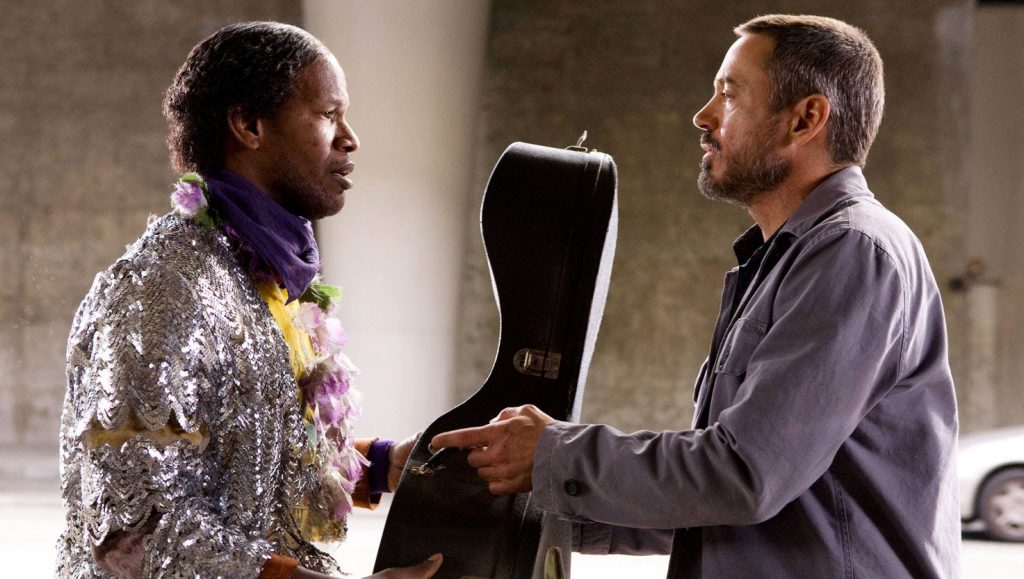 The Soloist is one of those movies that should have been Oscar-level big, yet somehow never cleared the bar with critics or fans. In the spirit of Rain Man, you had one big-name actor doing a single-note virtuoso savant impression (Jamie Foxx), while another big-name actor took the more nuanced role of the protagonist who grows and changes through his encounter with the savant (Robert Downey, Jr.). Plus, this too-good-to-be-true story of a homeless, schizophrenic Juilliard drop-out and the journalist who discovered him had the benefit of actually being true, albeit a little fictionalized. But Joe Wright's jerky direction, coupled with a sometimes cryptic script that went out of its way to avoid hitting sentimental beats, left this would-be Oscar bait hanging without so much as a nomination. Yet, despite its flaws, it's a movie that's stuck with me ever since I first saw it.
The common thread that holds the story together through all its twists and turns is the search for beauty. When the journalist, Steve Lopez, first encounters Nathaniel the savant, he's scraping away on a sadly dilapidated violin under a statue of Beethoven. As Steve begins spotlighting his story in the LA Times, it catches the eye of a woman who bequeathes Nathaniel her cello. When Steve presents it to him, Nathaniel handles the beautiful instrument as if it were a sacred relic, hardly daring to touch it. He then takes the bow and produces a single, rich note that stops Steve in his tracks. All Steve can do is slump down onto the pavement and listen as Nathaniel begins to play Beethoven's String Quartet number 15, movement 3. Gradually, the soundtrack seeps in underneath him as cars fly by in the underpass. Steve rests his head in his hands as he listens, overwhelmed by the gift of beauty given back to him.
There are many moments like this in the film. There's the moment when Steve finds Nathaniel playing for the other homeless people, their fits and tics and cares forgotten, if only for a little while. (Note: Real denizens of Skid Row were used for the film instead of professional actors.) There's the moment when Steve tries to describe the experience of sitting next to Nathaniel for a private concert of some classical music. He's in a bar with his ex-wife, trying to holler over a country band. "I'm watching him, he's watching the music, and while they're playing I say, my God, there is something higher out there. There is something higher... I mean, I don't even know what you f—ing call it." "Grace," his ex-wife says softly, her voice drowned out in the din and the chatter. He asks her to repeat it. She yells it louder. "GRAAACE!" "Grace! Okay, thank you. Yeah."
Helping either the homeless or the mentally ill is a costly investment, as Steve soon discovers. The most heart-wrenching moment of the film comes when Nathaniel has a violent mood swing and literally pushes Steve away. Steve walks away broken, hurt, and feeling like a fool. The story doesn't end there, as it didn't in real life, but it's a reminder that sometimes, beauty comes with a price.
When art moves me deeply, it inspires me to create. As a lover of both film and music, I often encounter films and songs that seem to complement each other to an almost uncanny extent. When I saw The Soloist, I thought of one of my favorite unpublished tunes by the unsung singer/songwriter Marc Cohn, a song called "One Thing of Beauty." Instantly, I knew they belonged together in a music video.
The song lyric makes a simple request: "Give me just one thing of beauty," demands the narrator, and that will wash away his tears, it will last him a lifetime. It will even satisfy his longing for the sacred ("I won't need to get no religion/When I throw all my burdens away/So give me just one thing of beauty/And I'll stand at this altar and pray"). He paints a picture of "hard times down on the corner, loneliness out on the street." One bit of creation groaning with the whole, walking in darkness in search of a great light. Yet there is a resilient hopefulness here too. There are "dreams being dreamed down in the doorway" by society's cast-offs, the ones nobody knows, in "places nobody goes." They, too, crave that "one thing of beauty" the narrator seeks.
But what thing is this? It is left to our imagination, because it could be so many things. It could be a sunrise, a bird on the wing, a violin, a meal shared with friends. Yet, significantly, the phrase "of beauty" is left off at the very end, as the song fades out and repeats, "When you go way down, you're looking for one thing, looking for one thing…" The human heart seeks that beauty to which all other beauties point the way. Like the child saying "I want, I want…" without being able to grasp the word for its need, we know it, though we cannot always name it.
One thing. When you go way down, you're looking for one thing.
Herewith, my small tribute to grace, and to beauty.