9 Oct
2015's Spectre ended with James Bond (Daniel Craig) leaving a defenseless Blofeld (Christoph Waltz) alive to be captured and walking away from MI6 with his new love, Madeleine Swan (Lea Seydoux). It recalled the originally planned ending of 1969's On Her Majesty's Secret Service, which was to see Bond marry Tracy (Diana Rigg), saving her murder at the hands of Blofeld for the next film's opening.
The new and long-delayed entry in the Bond series, No Time to Die, opens with James and Madeleine on vacation in Italy. Having left the life of a spy behind him, James is as light as we've ever seen him, though Madeleine remarks how until he stops looking over his shoulder, he'll never really be able to move forward. Their bliss is interrupted by an attack somehow orchestrated by the imprisoned Blofeld, who gives Bond the impression that Madeleine has betrayed him, just as Vesper Lynd (Eva Green) had in Casino Royale. The action sequence itself is outstanding, with director Cary Fukunaga taking James and Madeleine on a wild ride as he attempts to fight their way out. Once they reach safety, James tells her they'll never see each other again.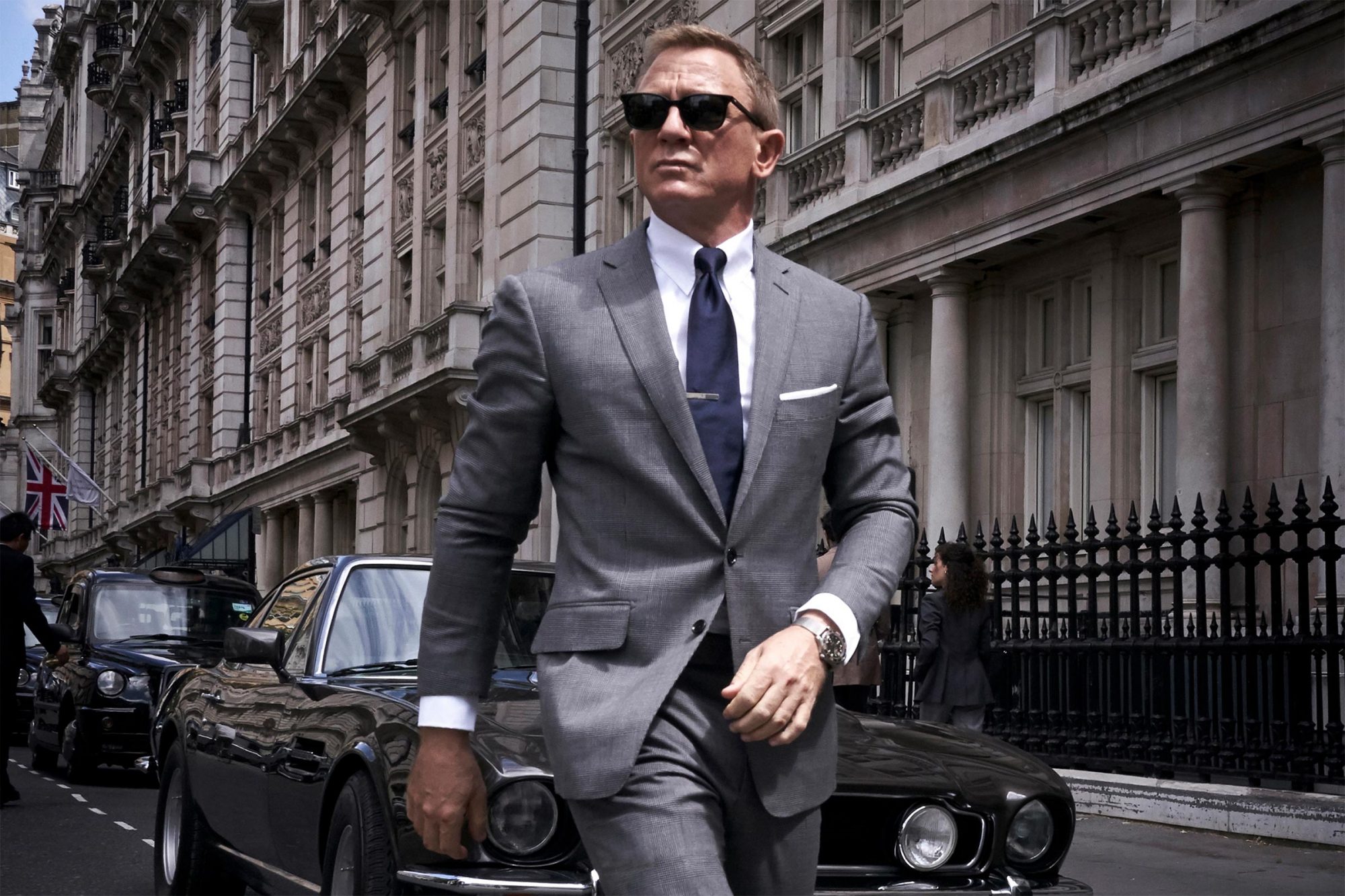 Five years later, with Bond retired and living alone in Jamaica, he's approached by his old "brother from Langley," CIA agent Felix Leiter (Jeffrey Wright). Leiter, along with fellow agent Logan Ash (Billy Magnussen) is looking for assistance from someone no longer a part of MI6. A bioweapon containing nanobots designed to attack specific targets has been developed with the approval of M (Ralph Fiennes), but it's now in the wrong hands and MI6 doesn't want any help in getting it back, even from Britain's allies or from retired agents. Bond agrees to aid Felix and so begins his first fieldwork in years.
It has been known for some time that No Time to Die was to be the last of the Daniel Craig James Bond films. Unlike the essentially stand-alone nature of the franchise's movies prior to Craig, his have all been deeply connected to one another, with a greater focus on continuity. While this has been an interesting approach, it has certainly not been entirely successful. Spectre's retconning of the previous three films making Blofeld the one behind everything that had happened to that point was a woeful misstep and unfortunately one that No Time to Die really can't pretend didn't happen.
All in all, this final Craig entry is a mixed bag, with certain aspects working tremendously, others falling flatly, and others still leaving you wondering quite what to make of them. In terms of its filmmaking, Fukunaga's direction is tremendous visually and in regards to action. He also keeps things moving along to prevent the 163-minute runtime from feeling bloated. Working from a script credited to longtime Bond writers Neal Purvis and Robert Wade along with Fukunaga himself and Phoebe Waller-Bridge, Fukunaga's film is structurally quite different from the Bond template that most films in the series have followed. It's also far more interested in who James Bond actually is as a person than any movie has before. In terms of execution though, that element has its pluses and minuses.
In his final outing here, Craig shows more of a sense of humor than he has before in these movies, most likely due to Waller-Bridge's contributions to the screenplay. While Craig has more than proven he can be incredibly funny (see Knives Out) and the idea of his Bond loosening up a bit shows some growth, it feels like a little too much from him. While he never strays into Roger Moore territory, it just isn't consistent with who he's been through four previous movies. Had it been just a bit less pronounced, it probably would have worked better. Craig handles the dramatic aspects as well as ever and we still believe him when he gets into a brawl.
As for the large supporting cast, much was made of Lashana Lynch (Captain Marvel) joining the fold as the new agent who's been designated by MI6 as 007 and Rami Malek as the film's villain, Safin. Oddly, neither is as big a part of No Time to Die as one might expect. This is somewhat surprising given the movie's length and in terms of the dynamic between Bond and the new 007, it seems like a little more could have been done with that. As for Safin, he may not dominate the film but he's around as much as he needs to be. The most enjoyable new face is Ana de Armas (Craig's Knives Out co-star) who appears only briefly but is a blast to watch as an inexperienced CIA agent Bond makes contact with. It's a character that could have gone terribly wrong but de Armas is so charismatic and fun to watch that she becomes the highlight of the movie.
The returning supporting cast members each get their moments to shine, most notably Ben Whishaw as Q. His frustration with Bond and Moneypenny (Naomie Harris) crashing his attempt at a dinner date is one of the movie's funnier moments. As with Spectre, Waltz's Blofeld is a missed opportunity. It's a shame, as on paper his casting seemed so perfect.
It will be interesting to see where No Time to Die settles in the minds of Bond fans in terms of its ranking in the series. Most likely, it will be one of the more controversial entries with those who put it near the top with others claiming it to be one of the worst. For whatever reason, movies like that tend to land somewhere in the middle for me, the good and bad elements each revealing themselves.
Ever since Spectre, the internet has been awash with speculation and opinion pieces about what the future of the Bond franchise should look like. We'll have all the time in the world to get that settled, but for now, there's a new movie for audiences to chew on until that day comes. My personal preference would be to see a period piece, taking the character back to the '50s or '60s where his style and personality make the most sense. But I don't think that's going to happen. Regardless, I'll be there opening night.