28 Oct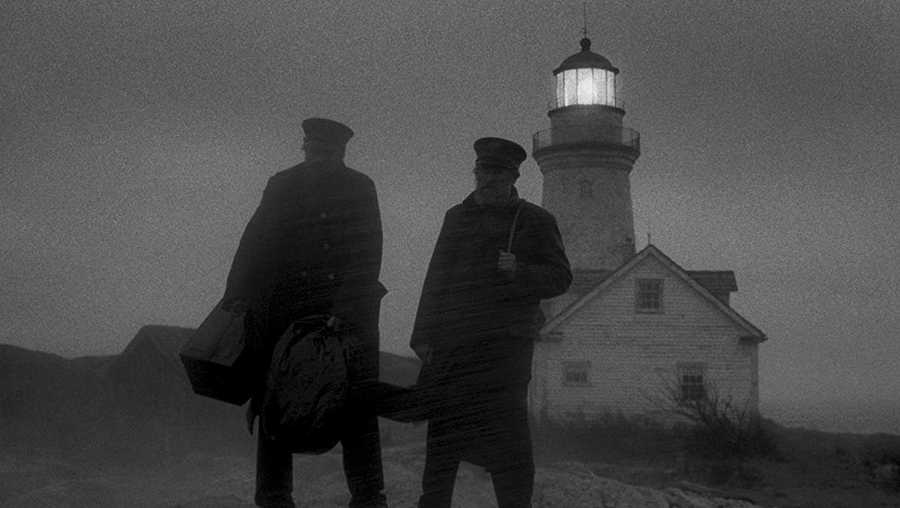 In 2015, Robert Eggers established himself as a highly-talented filmmaker to watch with his debut, The Witch. Maybe the most notable aspect of that film is the incredible sense of atmosphere Eggers creates. The grimy, foggy sense of dread. That mastery of atmosphere is a strong component of his second feature, The Lighthouse, but in service of a more character-focused story.
Sometime in the late 19th century, somewhere on the east coast of North America, two men arrive on a small island to spend the next four weeks on duty at a lighthouse. The younger man, Winslow (Robert Pattinson) is new to this life while the older one, Thomas (Willem Dafoe) is a crusty old seaman whose word is law on this island of two. In terms of plot, there isn't much more to say as Eggers is primarily interested in how this life and work effect these two men with little in common but no one else to talk to.
Eggers immerses us in the cold, wet, miserable, gray lives of Winslow and Thomas through the use of black and white 35mm film and makes us feel all the more stuck on that island by shooting in an incredibly tight 1.19:1 aspect ratio. The use of light and sound design also add to the sense of soul-crushing despair that Winslow in particular is experiencing.
All of the outstanding technical aspects add up to wonderfully serve the dual character study and clash between Eggers' two characters, who from moment to moment can go from happily drinking and dancing together to wanting to murder each other at the drop of a hat. Dafoe and Pattinson play off of each other tremendously well, making every scene together more riveting than the last. Thomas and Winslow drive each other completely mad which is the real sadistic fun of The Lighthouse.
Dafoe has long been one of the more highly respected actors alive and rightfully so. It's hard to imagine an actor who could have possibly been more suited to play Thomas. He looks right at home smoking a corn cob pipe while bellowing at the young layabout he sees before him. Pattinson will be the bigger surprise to much of the audience. Many have dismissed him over the years based purely on the Twilight series which has also led to skepticism about his ability to play Bruce Wayne in the next Batman film. My only previous experience with Pattinson is a supporting role in 2016's The Lost City of Z (in which he was quite good) and, before that, 2014's The Rover, in which he plays the second lead to Guy Pearce. The Rover is an excellent movie, but Pattinson is the weakest part. Pearce's performance is one of the most extraordinary of this decade and Pattinson seemed out of his depth as an actor, relying on ticks and mumbling. Here, though, he is more than up to the task of going toe to toe with a great veteran actor who's delivering a powerhouse performance.
The screenplay, co-written by Eggers and his brother Max, is often darkly hilarious and gives Dafoe and Pattinson plenty to sink their teeth into. Each man is given a rage-fueled monologue reminiscent of Paddy Chayefsky, which will undoubtedly become favorites for auditioning actors everywhere.
The Lighthouse is an expertly-crafted pitch black sea story boasting two of the best performances of 2019 and haunting images that will stay with you for a long time to come. Its most controversial aspect will be its ending, which I have admittedly been wrestling with since watching it.
In a time when debates abound over what "cinema" is or if movies have the kind of cultural significance they used to have, it's good to know that more new filmmakers with unique visions come along all the time. It will be exciting to see where Robert Eggers goes from here.