6 Sep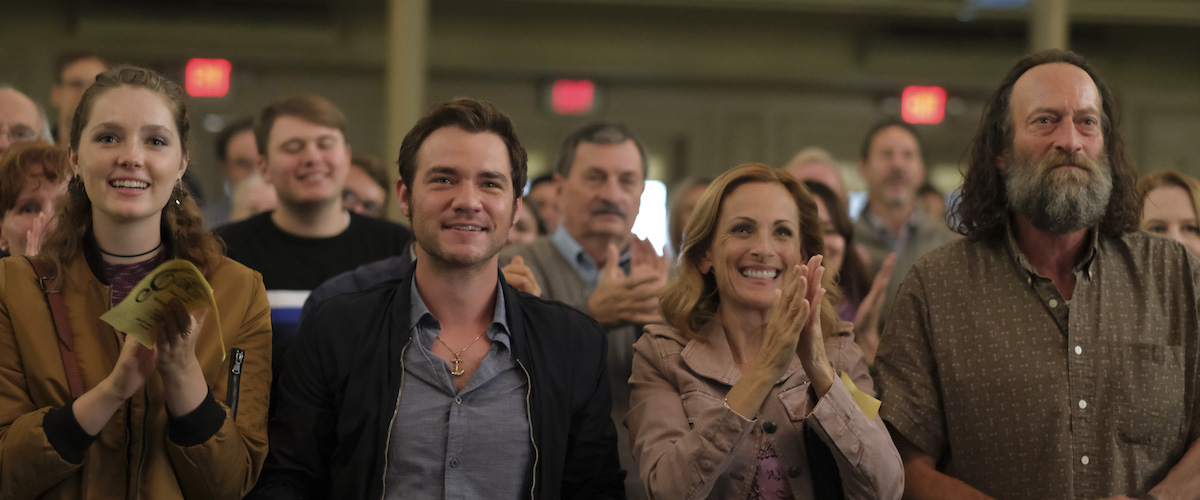 Ruby Rossi (Emilia Jones) is a young girl in high school but she's already had a great responsibility aiding her family. Both of her parents and her older brother are deaf so her ability to hear has helped them greatly in their family fishing business in Gloucester, Massachusetts. Going out on the water every morning before school makes staying awake through the day difficult and her classmates mock her for being the child of deaf adults (or "CODA"). Her great escape is singing, which she joyfully does around her family who can't hear her anyway. She honestly has no idea if she's any good at it or not. Nervously, she joins the school choir to find out. To Ruby's surprise, she's not only good, her teacher Mr. Villalobos (Eugenio Derbez) sees something incredibly special in her.
Written and directed by Sian Heder, CODA is an American remake of the 2014 French film, La Familie Belier. Not having seen the original, I can't speak to how similar it may be to that, but in terms of its story structure and beats, it will be very familiar to anyone who has seen a handful of coming-of-age films. What makes CODA work so well, however, is that it finds what is interesting in the specificity of Ruby's family. Those of us who can hear are certainly aware that there are things we take for granted that aren't part of life for the deaf. CODA shows us what some of those things actually are and how deafness is more than just an inability to hear sound. It can be a wall that makes connection with other people and the world around you exceedingly difficult and even seem impossible. We feel Ruby's hurt and exhaustion as she is the one who must argue with vendors about how much money her family will be paid for their catches and being the only one who can hear the mocking comments and laughter about her family.
Jones is a very young British actress but given how well she carries virtually every scene on her shoulders (not to mention her flawless American accent), there's never a sense she's in over her head here. Whether she is struggling with life at home, feeling her way through a potential relationship with her duet partner, Miles (Ferdia Walsh-Peelo), or pleading with Mr. Villalobos not to give up on her after another missed practice, we feel everything Ruby feels. This includes her joy when she gets to sing. CODA is not a musical and if it was it would likely cheapen the moments Ruby gets to let loose in song. The realness of the film's world makes those scenes truly soar.
Heder casts deaf actors in the roles of Ruby's parents and brother and, like C.J. Jones in Baby Driver, they bring an invaluable authenticity to their performances. Academy Award winner Marlee Matlin is the most recognizable as Ruby's mother, Jackie who bears a strong resentment of "those hearing b****es" in the local fishing community. She feels that she has no place in their world but the film is also honest about Jackie's lack of effort towards changing that. Matlin and Troy Kotsur are excellent as Ruby's parents. Their marriage feels real and we can see how much they love each other and their family throughout. Daniel Durant is terrific as well in the role of Ruby's brother, Leo. While Ruby certainly has her own cross to bear, Leo's struggles and frustrations aren't ignored or minimized here. Unlike his parents who don't truly understand Ruby's desire to be a singer, Leo wants her to have every opportunity that she can to live her own life.
CODA is a movie that earns its emotional payoffs thanks to the warmth Heder brings to telling the story and to its many wonderful performances. There are not one but two scenes that will make anyone not made of stone at least feel choked up. It's a true happy tear-jerker and the kind of film you'll want to recommend to everyone you know. It is currently available with an Apple TV+ subscription and is playing in a limited theatrical release (my fellow Seattleites can find it at the Crest Cinema in Shoreline).