5 Dec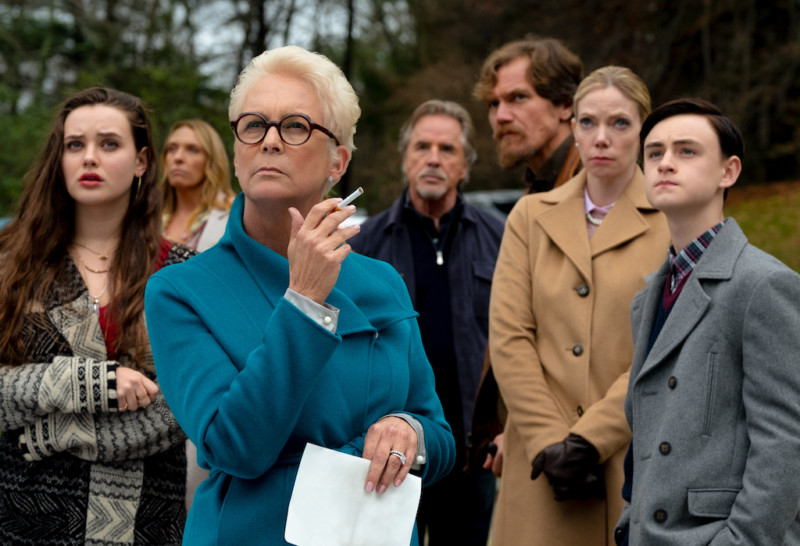 Harlan Thrombey (Christopher Plummer) is the beloved author of numerous murder mystery novels. He's just celebrated his 85th birthday with his children and grandchildren. His housekeeper Fran (Edi Patterson) is making her morning rounds through his palace of a home… when she finds him dead, his throat slit. Her reaction to this discovery is a comical one. Thus the tone is set for Rian Johnson's Knives Out.
A week after Harlan's apparent suicide, Detective Elliot (LaKeith Stanfield) is visiting the Thrombey home to resume questioning the family members who had been present the night of the party. There's Harlan's eldest daughter Linda (Jamie Lee Curtis), a successful real estate mogul, her brother Walt (Michael Shannon), who runs Harlan's publishing company, and Joni (Toni Collette), the widow of Harlan's other son, who makes her living as an internet influencer. There is also Linda's doofus of a husband, Richard (Don Johnson), Joni's vocally liberal teenage daughter, Meg (Katherine Langford), and Walt's son, Jacob (Jaeden Martell), whom Richard describes as "an actual nazi." Finally there is Linda and Richard's ne'er do well son, Ransom (Chris Evans), who has never had to work a day in his life.
Aside from the family, there is Harlan's nurse Marta (Ana de Armas, Blade Runner 2049), who seems to be far more shaken by his death than any of his blood relatives are. Her story is of particular interest to the private detective who is quietly sitting in on Elliot's interviews. His name is Benoit Blanc (Daniel Craig), whom Joni recognizes from, "a tweet about a New Yorker article about [him]." As something of a celebrity, someone has hired Blanc to peer further into Harlan's death, though he cannot say who it was that put him on the case.
For the past two years, Rian Johnson has been one of the more discussed people on the internet. He has had both scorn and praise heaped upon him as the writer-director of The Last Jedi. As someone who neither loves nor hates The Last Jedi enough to make seemingly anyone happy when discussing it, I'll keep my references brief. While Johnson's direction – particularly from a visual standpoint – was strong on The Last Jedi, his screenplay was clunky structurally and there were numerous attempts at comedy that fell flat and felt out of place. Here, however, the screenplay is both structurally rock solid and terrifically witty, recalling his severely underrated The Brothers Bloom.
Free from needing to serve a larger, 40-year-old universe, Johnson is able to focus on spinning an incredibly entertaining whodunit filled with colorful characters. Evans and Collette are particularly fun to watch. Ransom's greatest joy in life comes from watching the rest of his family tear itself apart, and Evans plays this with a glee that honestly puts the audience on his side. These are terribly selfish people after all. Collette plays Joni as just loopy enough without going too far. De Armas does excellent work as Marta, keeping the film grounded as the most normal character in it. It's Craig who truly steals the show, though. Blanc's quirky process keeps us guessing throughout. Does he behave the way he does as a way of getting the suspects to let their guard down or is this just who he is? It's so much fun to watch that the idea of Craig playing Blanc in future films seems very enticing. A southern fried Poirot for the 21st century.
Most of the rest of the cast does excellent work with fun characters. The teenagers seem to represent particular types of teens Johnson wants to make a comment on more than actual characters. It feels like there's a bit of a missed opportunity there. It's one of the few aspects of Knives Out that leaves anything to be desired.
Given that this is a murder mystery, there are many twists and surprises along the way. Thanks to the aforementioned-structurally rock solid screenplay, those twists add up. We're sufficiently surprised, but everything makes sense. Add this to the wonderfully realized characters and sharply funny dialogue and Rian Johnson has made one of the better and more purely fun movies of 2019. Between this, Ready or Not, and Parasite, this has been an excellent year for films centering on bizarre rich families and the havoc they wreak. Whether Knives Out is the best of those three is certainly up for debate, but it is undoubtedly the most crowd-pleasing.