29 Jun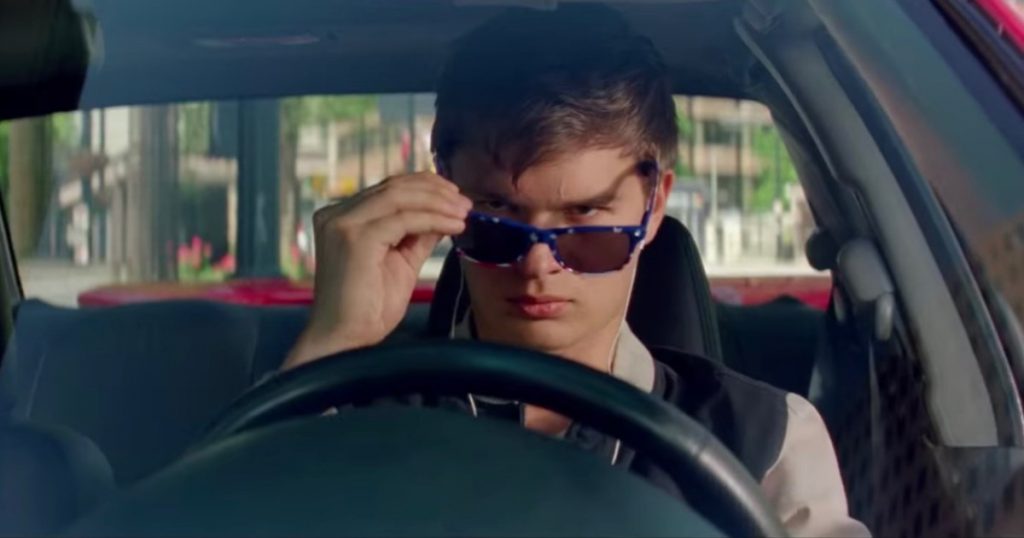 Edgar Wright's excellent new film Baby Driver wastes no time pulling its audience in and sending us off on a thrilling ride. In one of the better scenes to open any movie in a very long time, we meet a young man named Baby (Ansel Elgort, The Fault in Our Stars) as he sits behind the wheel of a car outside of an Atlanta bank. While his associates (Jon Hamm, Eiza Gonzalez, and Jon Bernthal) are inside pulling off a heist Baby waits in the car with his headphones on listening to the pulse pounding rock anthem Bellbottoms by Jon Spencer Blues Explosion. As the others pile back into the car the song serves as the soundtrack to his masterful getaway driving.
Griff (Bernthal) is puzzled and annoyed at Baby for being so involved in his music on a job but as their crime boss Doc (Kevin Spacey) explains, Baby was in a car accident as a child that left him with tinnitus and without either of his parents. "Still has a hum in the drum. Plays music to drown it out." While Doc uses different crews for each job, Baby is the only wheelman he trusts and thanks to the youthful indiscretion that put Baby in Doc's debt, the young driver has little choice but to keep working to pay it off. Still, Doc promises Baby that with their next job his debt will at last be paid and he will be able to move on. Meanwhile, Baby meets a young woman named Debora (Lily James, Downton Abbey) working at a local diner. The two share a love for music, the road, and a desire to drive west and never look back.
Written and directed by Wright (whose Hot Fuzz I recently wrote about), Baby Driver is the kind of entertaining jolt that summer movies so often promise to be but so seldom are. While it has its share of laughs it's not primarily a comedy the way his four previous films were. The stakes feel very real as Baby attempts to get out from under Doc's thumb while dealing with the dangerous personalities of Buddy (Hamm), Darling (Gonzalez), and self-proclaimed lunatic Bats (Jamie Foxx) on what he hopes is his final job. While it's set in the present day, there's a '70s sensibility to it. This is especially apparent in Baby's scenes with Debora and as he and the crew prepare for the climactic robbery.
Virtually every moment of this film has music playing over it, much of which Baby plays on one of his many iPods. Wright's always filled his movies with great songs old and new but he has outdone himself here. Every song feels perfect for the mood of its scene and it's also very much to Wright's credit that he doesn't use songs that are recognizable from other films and in many cases won't be recognizable at all to most of the audience. Even if you're only familiar with a couple of these songs going in, the very first thing you're going to do after the movie is buy the soundtrack. What makes his use of music truly special though is the way that he syncs it up with the changing of gears, the squealing of tires, and the firing of bullets. It's the closest we're likely to get to an Edgar Wright musical. The opening credits sequence over Bob & Earl's Harlem Shuffle almost feels like Singin' in the Rain as Baby strolls happily through the streets of Atlanta with his earbuds on.
Using a cast that is entirely new to him, Wright has an ensemble that is as note perfect as his song choices are. I had never seen Elgort before but I look forward to seeing more of him. He is a joy to watch here, letting us in to feel all of Baby's emotions with him. The character doesn't say much but he wears every feeling he has on his sleeve and we root for him to escape the criminal life he wants no part of. The fact that Wright dresses him in a way that subtly brings Han Solo to mind is a fun touch as well.
The supporting cast is outstanding, with everyone having a keen understanding of the tone Wright is going for. Spacey is menacing but the relationship Doc has with Baby still has something of a paternal feel to it. Doc really does like Baby, though he does make his position of dominance unmistakable. Foxx is genuinely terrifying and his exchanges with Hamm and Gonzalez are filled with crackling tension. There are some truly touching scenes as well between Elgort and C.J. Jones as Baby's stepfather Joe. While Joe is deaf he enjoys Baby's music through the vibrations and their relationship is as much the heart of Baby Driver as the romantic storyline between Baby and Debora. Deaf in real life, Jones has not appeared in many movies but he has had a rather incredible career as a comedian, performance artist, and motivational speaker, and he has a Tony award to his credit. He is absolutely wonderful in this and there's a real spark between him and Elgort.
In this time of sequels, remakes, and cinematic universes, a major studio release that is truly original and that is this good is such a breath of fresh air. That it comes from Edgar Wright makes me even happier. Typically I don't care very much about how a movie does at the box-office but this is a case where I'm really rooting for Baby Driver to be a big, breakout hit. I want to believe that a movie that's original and has no intention of spawning a sequel can rake in serious money and encourage Hollywood to make more films that stand alone with a beginning, middle, and definitive end. Step on the gas and get to this one the first chance you get.