1 Sep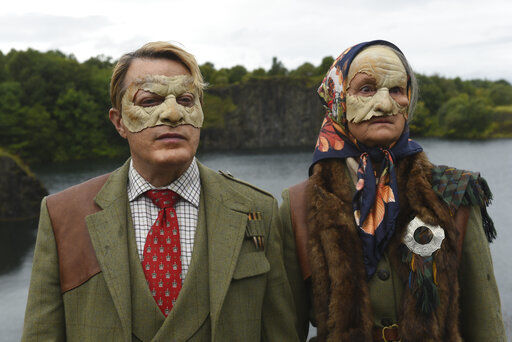 Get Duked!, the feature film debut of music video director Ninian Doff wastes no time getting moving. We are introduced to three Scottish teens named Dean (Rian Gordon), Duncan (Lewis Gribben), and DJ Beatroot (Viraj Juneja) ignoring a decades-old video explaining the Duke of Edinburgh Award. Their teacher, Mr. Carlyle (Jonathan Aris), further explains that the boys will be traversing the Scottish Highlands without the aid of technology as they try to earn their award. What it really is for them though is punishment after setting a fire. Once they arrive in the Highlands they meet Ian (Samuel Bottomley), a boy who's very excited for their outdoor adventure. Unlike the others, he has chosen to be there in hopes of being able to add it to his university applications. With that, Mr. Carlyle quickly rattles off an explanation of the route the boys will need to take and that he'll see them at the campsite, and away they go.
The setup suggests that Dean, Duncan, and DJ Beatroot (he feels very strongly about that name) will be terrible to Ian – or that he'll be a snob to them – until they go through some scrapes together and eventually come to respect and even like each other. While there are small elements of that, what Doff and the talented young cast give us is much more interesting and layered. It is also incredibly funny. What begins though as a small ensemble comedy about a trek through the Highlands, becomes something far more terrifying for the boys when a man dressed in a fine suit (Eddie Izzard) begins taking shots at them with a rifle.
Written and directed by Doff, Get Duked! manages to be consistently funny all while the four boys try to escape their sudden Most Dangerous Game situation. Each character has his own unique personality and point of view and their group dynamic is very believable. There's a sadness to Dean, who has just accepted the idea that he'll spend his life working in a fish market and living with his dad. Duncan is not at all bright but full of energy. DJ Beatroot is an aspiring rapper who sees his future as nothing but bright, though his friends begin to question his choice of stage name. Ian meanwhile is clearly the smartest member of the group but like the others given their situation, is a scared kid just trying to survive (while not forgetting the award checklist). All four actors give their characters depth and they play off of each other extraordinarily well. They add dimension to Doff's already clever screenplay and carry us through the film's brisk 88-minute running time.
The adults in the cast are in smaller supporting roles but they bring something welcome to the table. In addition to Aris and Izzard, James Cosmo (from Braveheart and Trainspotting to make this movie even more Scottish than it already was) has some very funny scenes as a farmer the boys cross paths with, while Kate Dickie and Kevin Guthrie play two small-town police officers who wildly misunderstand the situation as they come into the picture.
While Get Duked! certainly has a dark premise, the comedy doesn't particularly lean into that darkness. Instead, it mostly maintains the fun tone established by the first act, even when things start to look bleak for our heroes. This works out well for the movie, ultimately. It's only in the film's final moments that Doff has the characters explicitly discuss what it's been about all along. Thankfully, what could have been a heavy-handed scene plays just fine because of the way the film has built to it.
Get Duked! is a funny, well-executed comedy that introduces the world to a talented new filmmaker and four young actors who have bright futures ahead of them on-screen if they want them. It is currently free with an Amazon Prime subscription.