4 Nov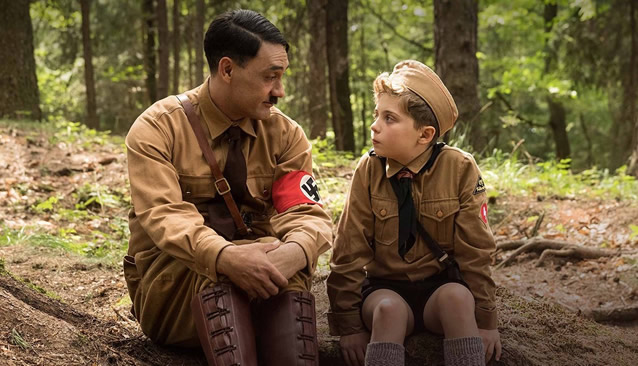 After directing low-budget comedies in New Zealand such as What We Do in the Shadows and Hunt for the Wilderpeople, Taika Waititi was given the keys to the Marvel kingdom with Thor: Ragnarok, which turned out to be one of the best loved movies in the MCU and one of the funnier comedies of the last few years. Clearly not interested in playing it safe between big budget Marvel films (Waititi is currently writing Thor: Love and Thunder), he decided his next film would be a comedy set in Nazi Germany about a 10-year old boy whose imaginary friend is Adolf Hitler, just as one would have expected.
While the year isn't specified at the start of the film, it's clear from some early context clues that the war is at a point where things are not going well for Germany. This is however not apparent to 10-year old Jojo (Roman Griffin Davis, in his screen debut), who only knows what German propaganda tells him. His mother Rosie (Scarlett Johansson) is no Nazi but, in the interest of keeping her son safe, she keeps her true feelings close to the vest as Jojo spends his days at a Hitler Youth training camp. Jojo's only real friend is Yorki (newcomer Archie Yates), whom Jojo insists to his face is his second best friend. He's reserving the top spot for the Fuhrer in case they're ever to meet. As it is, Jojo spends his considerable alone time conversing with an imaginary Hitler (Waititi himself), who is every bit the child Jojo is. After a terrible accident leaves Jojo with a scarred face, he's forced to spend his days at home where he discovers a Jewish teenager named Elsa (Thomasin McKenzie, Leave No Trace) who is being hidden in their home by Rosie. Now the prejudices Jojo has been taught will be challenged for the first time.
Based upon the novel Caging Skies by Christine Leunens (another New Zealander), Jojo Rabbit is a satire whose primary objective is to present Nazis as inept buffoons. While certainly not the first movie to mock Hitler and his toadies (it's been 79 years since Charlie Chaplin made The Great Dictator while Hitler was having his way with Europe), it's a very funny film from Waititi's unique voice. The true horrors of the war and the Holocaust are largely off screen here as Waititi really only shows us what Jojo sees. It's only through his interactions with Elsa that Jojo's beliefs are called into question and her pain and rage are ever present, playing well against the comedic elements of the film.
Waititi's screenplay possesses the same goofy spirit of his previous work. Combined with the look and feel of his direction, it's more clear than ever how much of an influence Wes Anderson is on him. The cast is in tune with Waititi's sensibility here as well. Sam Rockwell's cartoonish German accent is exactly right for the kind of movie Waititi's making and he's his usual brilliant self as the jaded Captain Klenzendorf who runs the Hitler Youth camp. McKenzie, who was so outstanding in last year's Leave No Trace, really provides Jojo Rabbit its soul while Johansson provides the film its heart. Rosie tries to keep herself, Jojo, and Elsa alive while also quietly doing her part to work against the Nazi party. Through it all she maintains her belief that, "We should dance to show God that we are grateful to be alive." This might be Johansson's best work to date. As the imaginary Hitler, Waititi is hilarious. Since he's not really Hitler, he comes across as the figment of a young boy's imagination as he should. Still, there are moments when Jojo imagines Hitler becoming very angry with him, his voice and rage growing, similar to the propaganda films Jojo no doubt would have seen. Waititi sells these moments incredibly well, suggesting Jojo knows deep down who his hero really is.
All of these elements are essential to the success of Jojo Rabbit, but without the lead performance of Davis, this is a movie that would have ultimately failed. No matter what nonsense Jojo believes or spouts, we stay with him, knowing that he's not really that monstrous. He just needs to see the truth. He's able to hit the right tone the whole way through, which is all the more impressive considering that he is in virtually every scene. Jojo Rabbit really is carried on this young newcomer's shoulders. As his friend Yorki meanwhile, Yates is pitch perfect. He delivers dryly comic lines as though he's a thiry year veteran of stage and screen. If he wants it, he has a great future as an actor ahead of him. That's natural comedic talent that you don't usually see from actors that young.
Satire is one of the more difficult things for a filmmaker to attempt and for the most part, Waititi hits the mark here. It's not quite the grand slam that Armando Iannucci's The Death of Stalin was last year, but it's a funny gem of a movie with a strong emotional core that makes Nazis look moronic. That will always be easy to endorse.