1 May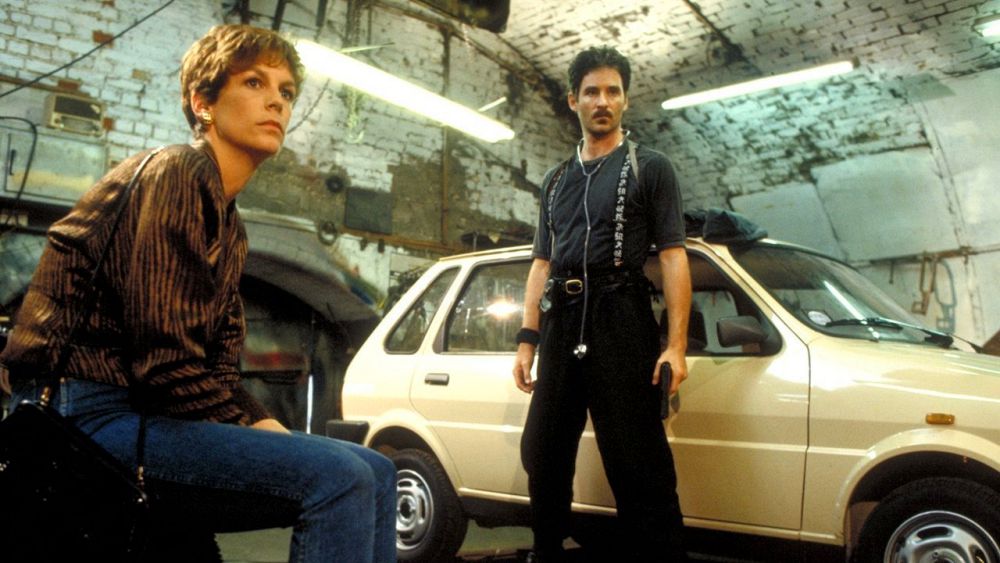 I've usually found that, when it comes to the kind of comedies I enjoy, most fall into one of two categories. Some are well-constructed with strong characters and give me some solid chuckles throughout. Others make laughs their biggest priority and are only concerned with things like characters and story to a minimal extent. Just enough to have something to hang those laughs on. A Fish Called Wanda is that rare and wonderful movie that is the best of both worlds. It is brilliantly constructed, filled with richly drawn characters, and it is also laugh out loud funny the whole way through.
The plot involves a diamond heist, a double cross, torture, eating live fish, and multiple accidental killings of dogs during multiple failed attempts at murdering an old woman. And yes, it's one of the funniest movies ever made. Wanda (Jamie Lee Curtis) and Otto (Kevin Kline) are an American couple on a job with two British criminals, George Thomason (Tom Georgeson) and Ken (Michael Palin), to steal millions in diamonds. After the heist, Wanda and Otto set George up to be arrested and take the fall but they don't realize that George has moved the loot. Now, to find out where it's hidden, Wanda knows she'll have to get close to George's barrister.
That barrister is the unhappily married Archie Leach (John Cleese). He is a successful lawyer but neither his wife Wendy (Maria Aitken) nor his daughter Portia (Cynthia Cleese) have any respect for or interest in him. When Wanda shows an interest in him he never questions for a second why she would. He just feels alive for the first time in ages. For Wanda, the main objective is finding the diamonds, but she may like this British lawyer more than she realizes.
Written by John Cleese, A Fish Called Wanda has much of the dark feel and sensibility of the British comedies made by Ealing Studios in the '40s and '50s and it was directed by a man who had made so many of them, Charles Crichton (most notably The Lavender Hill Mob). Cleese helped the 77-year old Crichton in directing the actors on set, but despite not having directed a feature in over twenty years, Crichton's keen understanding of where to put a camera for maximum comedic effect remained as sharp as ever.
So much of what Crichton contributes is done stealthily, enabling the performances and the dialogue to shine and few films can boast of performances or dialogue at this level. Cleese was best known for his years with Monty Python and for his legendary BBC sitcom Fawlty Towers. In addition to being an actor in both of those casts, he also wrote much of Python's material and co-wrote all twelve episodes of Fawlty Towers with his then wife, Connie Booth. Cleese's method of writing and performing entailed intricately working out every last word, inflection, and gesture within an inch of its life. As such, it took about five years for him to complete the screenplay for A Fish Called Wanda, slowly working on every aspect of it with Crichton and his eventual co-stars, Curtis, Kline, and his long-time Python partner, Palin.
The four principle characters are all extremely well-developed and they all have their own oddities, even the buttoned up Archie and the perpetually in control Wanda. While Cleese had never been a romantic lead in a film and certainly never saw himself as one, it's a strength here because Archie Leach doesn't see himself as one either. Even the character's name is a sly joke on Cleese's part as Archibald Leach was the given name of the actor better known as Cary Grant. The character arc also allowed Cleese to comment on life in his home country. "Wanda, do you have any idea what it's like being English? Being so correct all the time, being so stifled of this dread…of saying to someone, 'Are you married?' and hearing, 'My wife left me this morning,' or saying, uh, 'Do you have children?' and being told they all burned to death on Wednesday. You see, Wanda, we're all terrified of embarrassment. That's why we're so…dead."
It's to Cleese's great credit as an actor as well that he's able to deliver these lines in a way that sounds natural. The movie doesn't stop for him to say something through the character. Archie is expressing his true feelings, which we suspect he hasn't been able to do with anyone for a very long time. Cleese also plays it all very straight and there's no finer example of this than his forced apology to Otto as he's being hung upside down out of a window several stories up. "I offer a complete and utter retraction. The imputation was totally without basis in fact, and was in no way fair comment, and was motivated purely by malice, and I deeply regret any distress that my comments may have caused you, or your family, and I hereby undertake not to repeat any such slander at any time in the future." Even his tie stays perfectly in place during this scene.
Like Cleese, the rest of the cast play their roles with utter sincerity throughout the film. As the master manipulator Wanda, Curtis masterfully conveys Wanda's true feelings to the audience while keeping up appearances to the people around her. Wanda though, is just as human as anyone else in the movie and while she is more in control of her emotions than the other characters, she still most definitely has them. Also like Cleese, she is very funny without ever going after the obvious laugh.
Palin's big story line through the film involves his character Ken trying to murder the only witness (Patricia Hayes) that the prosecution has against George. An old woman whose only pastimes seem to be walking her three little dogs and muttering disapproval at everyone she sees, Ken's mission is to make sure that she "meets with an accident." Ken, an animal rights advocate to his core, is horrified as his attempts not only end in failure, but end in the death of one dog after another. While dogs dying on screen is something many viewers find more difficult to watch than people dying on screen, the ways these scenes play out are brilliantly funny. There's an absurdity to them and a fakeness to the way the dogs look as we see the aftermath of each accident that there's no way for the brain to process it as being realistic. It also isn't too fake. Crichton walks the line just right to get the laugh he's going for. So much of the humor too derives from the fact that Ken is so deeply saddened that he's killed these dogs. This coupled with Otto's constant mockery of Ken's stutter make Ken probably the most sympathetic character in the movie.
The intelligence of the filmmakers and actors really comes through in the way Ken's stammer is portrayed. It's never treated as a joke by the film, with all of the mockery coming from Otto. Palin based that aspect of his performance on his own father's stammer and five years after winning the BAFTA for Best Supporting Actor for Wanda, he teamed with Britain's Association for Research into Stammering in Childhood to open the Michael Palin Centre for Stammering Children. So genuine good is being done for children as a result of Michael Palin playing a character who spends the better part of a movie trying to murder an innocent old lady.
Finally, we come to Kevin Kline as Otto, which I have maintained now for well over a decade is my favorite performance by any actor in any film I've ever seen. Clearly playing the most ridiculous character in the movie, Kline portrays Otto with utter conviction, which is what makes it so funny. This is never more evident than the scene in which he tries to explain to Archie and his wife, Wendy (neither of whom have ever seen him before) that he's, "uh, Harvey…Manfrenjensen…den," from the CIA and that a KGB defector is being debriefed in a safe house next door. When Wendy rightfully suggests that "Mr. Manfrenjensden," (delivered by Maria Aitken so perfectly that she deserved her own award invented specifically just for that) must be either, "congenitally insane or irretrievably stupid," Otto says, as he does so often throughout the film, "Don't call me stupid." Wendy stands her ground confidently, leading to Otto's declaration that, without the "good old US of A to protect it," Britain they would be the smallest "province in the Russian empire."
Kline is brilliant in the scene and the film as a whole because he understands that while Otto is "irretrievably stupid," Otto himself is far too stupid to realize it. He makes claims about doing a form of meditation that Buddhist monks "used to do before they went into battle," and believes that the London Underground was "a political movement." Kline's performance was so extraordinary that even the legendarily humorless Academy couldn't deny its excellence, bestowing on him the Oscar for Best Supporting Actor. Cleese and Crichton, meanwhile, received nominations for Original Screenplay and Director. Typically, the Academy doesn't recognize comedy as the valid art form that it is, but A Fish Called Wanda couldn't help but break through.
29 years after becoming an utterly unexpected worldwide box-office hit, A Fish Called Wanda more than holds up as one of the funniest and best films ever made. The cast reunited for 1997's Fierce Creatures, which was not a sequel as none of them reprised their roles. The film has several very funny scenes but it pales in comparison to Wanda. There was a certain magic to their first film together that could never quite be replicated and perhaps Crichton not returning to direct (he would retire after Wanda until his death in 1999) had something to do with it too.
For a companion film, I will give a nod to Roger Ebert who said in his review of The Naked Gun that it was "as funny… as any comedy released [in 1988], with the exception of A Fish Called Wanda." It would make a great contrast to Wanda in its unabashed silliness and in its willingness to be gleefully stupid, falling into the second category I mentioned in the introduction. Also, few things are funnier (in its context) than, "Hey! It's Enrico Palazzo!" You would be hard-pressed to come up with a better comedy double feature for a movie night with your friends.