27 Nov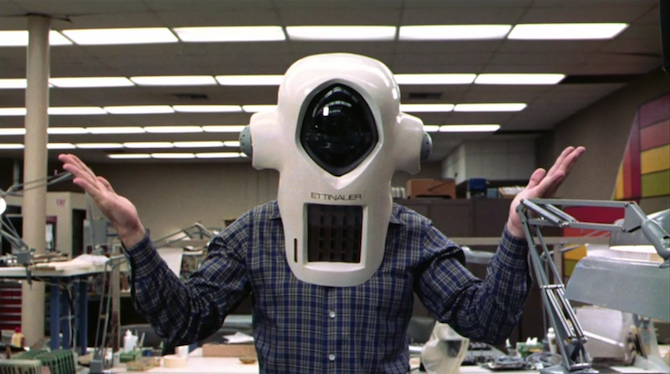 Citizen Kane. Casablanca. Lawrence of Arabia. Dr. Strangelove. Films considered by virtually all movie buffs to be amongst the greatest ever made. Classics. But there are so many wonderful movies that for one reason or another have fallen through the cracks and don't get the recognition they truly deserve. In this new series I will be writing about and hopefully encouraging people to discover the classics that they've been missing. Movies like Bad Day at Black Rock, Hud, and L.A. Story just to name a few. I'll be looking at the film, the era in which it was released, and other popular movies released in that era. For the first entry I'm writing about one of my favorite movies ever made and one that makes me laugh no matter how many times I see it, Albert Brooks' Real Life.
…
The 1999-2000 TV season introduced American audiences to two shows that would change television forever. While so called "reality television" was nothing new, shows like Fox's Cops and MTV's The Real World were outliers. Major networks would air re-runs of scripted dramas and sitcoms all summer long, with very little original programming running between the end of May and the beginning of September. But as one millennium gave way to another, ABC's Who Wants to Be a Millionaire (a game show but one that emphasized human drama more than something like Jeopardy!) and CBS's Survivor broke through to become primetime smashes. This would prove to be anything but a fad with reality shows quickly becoming ubiquitous and remaining that way 18 years on. It would have only made sense for a comedian turned filmmaker to satirize the format around say, 2002. But why bother? Albert Brooks had already done it to perfection. In 1979.
Inspired by the 1973 12-part PBS documentary series An American Family, Brooks directed the film, co-writing it with Monica Johnson and Harry Shearer. In fact the film opens with the text of a quote by anthropologist Margaret Mead who described An American Family, "as new and as significant as the invention of drama or the novel…a new way in which people can learn to look at life, by seeing the real life of others interpreted by the camera." Setting up the documentary style of Real Life the text describes the film as, "the next step. It documents not only the life of a real family, but of the real people who came to film that family, and the effect they had on each other."
Brooks stars as a fictionalized, high-strung version of himself. A man thrilled to be embarking on a great experiment to film the lives of a real American family for one year. That lucky family happens to be the Yeagers from Arizona. Warren (Charles Grodin) is a veterinarian who's very excited to be a part of the project. His wife Jeanette (Francis Lee McCain, Gremlins) however, and their two children are not so sure about being followed around with cameras for the next twelve months.
Albert is confident though. After all, the movie will be filmed with the unobtrusive Ettinauer 226XL, a camera that is worn by its operator like a space helmet. He proudly boasts of the Ettinauer's, "omni-directional microphones," and that it, "needs no special lighting and it uses no film." With the real Brooks predicting the future yet again, Albert adds, "All picture and sound information is recorded digitally." Putting a button on his description of the Ettinauer, Albert says with great satisfaction, "Only six of these cameras were ever made. Only five of them ever worked. We had four of those." That line and the delivery of it are signature Brooks. Coming from stand-up comedy, Brooks carefully considers each and every dry word. Each one has a purpose. And it's not simply the words themselves. It's the order they're spoken in and the inflection he brings to each individual one to maximize the line's comic effect. This is hand-crafted comedy from a master on the subject.
With Warren on board as the project begins, the rest of the Yeager family reluctantly attempts to make the best of the situation. But despite the "unobtrusive" Ettinauer-wearing cameramen and Albert living all the way… across the street from the family, the constant awareness of being filmed at every moment can't help but alter their behavior resulting in what one psychologist describes to Albert as, "a false reality." It doesn't take long for things to completely unravel for the Yeagers, for Albert, and for the production of the movie itself with the head of the studio insisting the film needs Robert Redford.
I've written about more than one mockumentary for this site and of course that's largely due to the pervasiveness of the format. But Real Life has always felt like a little bit of a different animal to me, partially because of it being so far ahead of its time but also due to the lack of "talking head" interview segments. This fits Brooks' style of humor though. He's not terribly interested in jokes or letting the camera run for 15 minutes to allow Grodin, McCain, or himself to improvise, something that could have easily become self-indulgent. He finds comedy in people and the way in which they seem to almost inevitably embarrass themselves if they know they're on camera. I would be very surprised to learn that there was any improvisation in the film. As noted above, Brooks is such a comedic craftsman that it's hard to imagine him leaving things to chance or leaving potential laughs on the table because a word wasn't pronounced just so. Plus the whole cast does an excellent job of staying in character from first frame to last. Nobody breaks character in pursuit of what they might believe to be a bigger joke with Brooks being smart enough to know that those jokes would ring false.
Real Life was released in an era where the biggest comedies tended to be on the broad side. The period between 1978 and 1980 saw the release of Animal House, The Jerk, Caddyshack, The Blues Brothers, and Airplane. I happen to like all of those movies a lot (particularly The Jerk) but it shows just how different Real Life was for a comedy of its time. The end of the film seems to be Brooks acknowledging that his movie won't have the same kind of widespread acceptance as the more popular comedies of the time. "The audience loves fake," a harried Albert tells his cameraman in the film's closing moments. "They crave fake." As he desperately tries to come up for an ending to his documentary Albert says, "There's no law that says, 'Start real, can't end fake.' What are they gonna do? Put me in movie jail? It's a fake jail!" he declares, his voice raising to a high pitch. Again, it's the delivery of the line that really makes it. It's become one of my all-time favorite film quotes. This all leads to an ending worthy of Gone with the Wind. At least that's what Albert tells himself.
Brooks would go on to make many more terrific comedies through the '80s and '90s, the best of which being 1985's Lost in America which is my choice for a companion film. Always underappreciated, Brooks is one of the few comedians truly worthy of being called a genius. Really, that shouldn't be surprising for a man born with the name Albert Einstein.