4 Mar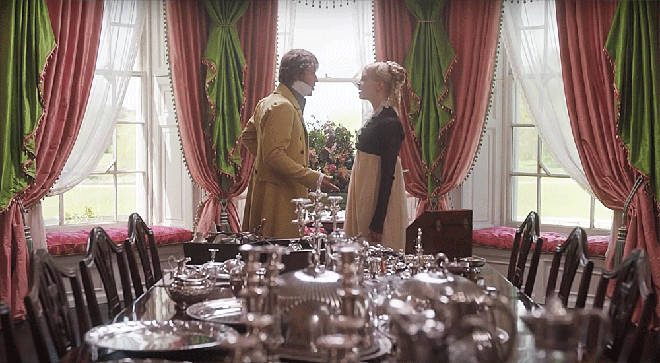 Some novels hold up as such classics that one adaptation just isn't enough for film or television studios. Just a few months ago, Greta Gerwig's wonderful big screen interpretation of Louisa May Alcott's Little Women became a critical and box-office success, although there have been numerous adaptations- some in different languages- produced dating back to the silent era. Gerwig's success was due largely to her finding a way to speak to modern audiences with material that was first published 150 years ago. Her Little Women doesn't feel like it could have been made quite that way before now, which is what makes it such a deeply worthwhile venture in a world where so many other films and mini-series' based on the novel already exist. Now, director Autumn de Wilde is delivering the seventh adaptation of Jane Austen's beloved Emma. (There are even more if you count Clueless and its Indian remake Aisha). So does it find a way to break through as strongly as Gerwig's Little Women? Not quite, but it still has plenty to enjoy.
For those not familiar with the story, Emma Woodhouse (Anya Taylor-Joy) is a 20-year old woman living on a luxurious English estate with her snarky but very kind father, Henry (Bill Nighy) in the early 19th century. Henry never remarried after his wife and Emma's mother died, and now Emma's governess, Anne (Gemma Whelan) is leaving their home to get married. With no meaningful responsibilities, Emma fills her days playing matchmaker to people in her life, while swearing off the institution of marriage for herself. Now that her governess has moved on, she turns her attention to her friend, Harriet Smith (Mia Goth). Harriet is 17 and looks to Emma's approval for every decision in her life. Meanwhile, Emma also spars with her longtime friend, George Knightley (Johnny Flynn), who is openly critical of her "vanity." It's very easy to see however, that there is a connection between them they are both denying.
Prior to directing Emma, Autumn de Wilde had directed music videos for 15 years, with this being her feature film debut. The screenplay is adapted by novelist and first time screenwriter, Eleanor Catton. Emma's world is brought to life with some exceptional production design and costuming and the cast is first-rate. Taylor-Joy has quickly shown herself to be one of the more talented actresses of her generation, having given an extraordinary performance in 2018's Thoroughbreds, playing another young woman living on a luxurious estate who gets involved in the life of a young friend. That's about where the similarities between those stories and characters end, but it's interesting to find a common – albeit in a broad sense – starting point. Nighy is his usual charming self. He's never just funny, he brings his characters fully to life. His Henry is constantly concerned about the room being just a bit too cold, if not for himself then for whichever guest happens to be in his home at that particular moment. His greatest concern however is his daughter, and the scenes between him and Taylor-Joy make their father-daughter relationship feel fully lived in.
Josh O'Connor (The Crown), Rupert Graves, Amber Anderson, Miranda Hart, Whelan, and Flynn all do terrific work here but the real standout of the cast is Goth as young Harriet. Her wide-eyed view of the world is funny but honest and when her heart breaks so do ours. Harriet's unwavering adoration of Emma ends up being to her own detriment at times and we want to see Emma grow as a character just as much for Harriet's sake as for Emma's.
In terms of the filmmaking, de Wilde gives her film a sense of personality, but the pacing flags at times. While an adaptation of a Jane Austen novel is obviously not going to be – nor should it be – a frenetic, high-speed race through its story, there's a snap to plenty of this film that it doesn't always maintain. Her handling of the comedic elements are stronger overall than her handling of the more dramatic ones, though some of those work well too, particularly a scene in which Emma deeply hurts the very sweet Miss Bates (Hart).
Whether you are familiar with Emma or not, either from the novel itself or one of its many adaptations, there is very little about the story that will surprise you. That is perfectly fine as its the rich characters that make the story involving. This is not a triumph on the level of Gerwig's Little Women, lacking an angle that really makes it stand out as a strong piece of modern filmmaking, but it is an impeccably cast and enjoyable film that is easy to recommend to audiences who enjoy these kinds of movies.