12 Jan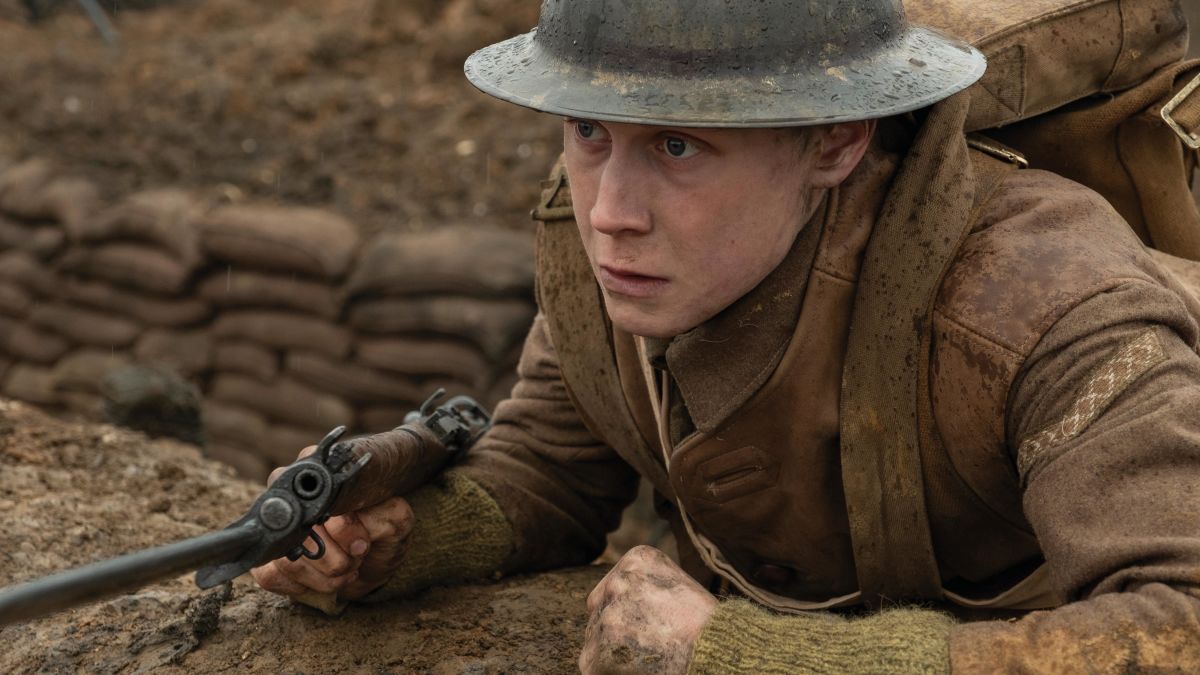 As a child, Sam Mendes was told the story of a messenger surviving through No Man's Land during World War I. The story was told to him by his grandfather, Alfred Mendes who was in fact that messenger. In his autobiography, Alfred stated, "The snipers got wind of me and their individual bullets were soon seeking me out, until I came to the comforting conclusion that they were so nonplussed about seeing at seeing a lone man wandering circles in No Man's Land, as must at times have been the case, that they decided, out of perhaps a secret admiration for my nonchalance, to dispatch their bullets safely out of my way." Aside from being potentially the most dryly British sentence ever written, it serves as the inspiration for Sam Mendes' new film, 1917, which presents a far more harrowing view of a trip into No Man's Land.
On April 6, 1917, Lance Corporal Tom Blake (Dean-Charles Chapman, Blinded By the Light) is awakened from a nap by a superior who simply informs him to grab his gear, pick a man, and follow him. Blake wakes up his friend, Lance Corporal Schofield (George MacKay) and the two wander through trenches and are brought before General Erinmore (Colin Firth). Erinmore knows that Blake's brother is part of the 2nd Battalion, made up of 1600 men. That battalion is planning an attack the following morning, believing they have the Germans on the run. According to British intelligence however, "They're walking into a trap," Erinmore states. With communication lines cut, "Your orders are to deliver a message calling off tomorrow morning's attack. If you fail it will be a massacre." With that, Blake and Schofield are on their way. Blake, frightened for his brother is determined to plow his way through enemy lines to deliver the message while Schofield heeds caution. "If we're not very clever about this then no one is going to get to your brother." Whether they're clever or not, the journey will be the most difficult and dangerous of their lives and as they finally step out above the trench, they know it.
1917 is an incredibly straightforward film that uses its simple premise as a means for bringing us into the intense and terrifying experience Blake and Schofield are facing. Mendes immerses the audience through excellent sound work and by filming long takes while concealing edits, creating the sense that the entire movie is a single shot. Obviously this was a remarkably bold decision on Mendes' part so he wisely turned to the best cinematographer on the planet, Roger Deakins to make it work as well as it possibly could. Deakins has shot some of the best looking – and overall best – movies in recent memory, including The Assassination of Jesse James By the Coward Robert Ford, Blade Runner 2049, and most of the Coen Brothers' work. This is Deakins' fourth film with Mendes and their second war movie together (the first being 2005's Jarhead).
Not surprisingly, 1917 is an astonishing technical achievement but more importantly this immersion wraps us up in its characters journey and never lets go. Whether they are faced with a rat in a bunker or a plane that's heading for a crash landing in their direction, we feel the tension in the situation. While certainly no movie could ever replicate the experience of war, 1917 joins the ranks of Saving Private Ryan and Dunkirk as films that probably come as close as cinema can to approximating it. From beginning to end, I felt terribly afraid for Blake and Schofield and jumped several times so the results are decidedly effective. We feel exhausted when they are – which is through the vast majority of the movie – and when they do occasionally pause to catch their breaths we seem to welcome it as much as they do.
Like Dunkirk, 1917 has a relatively lean running time for a war movie, coming in at just a hair under 2 hours. Its screenplay (written by Mendes and Krysty Wilson-Cairns) is about as simple as the premise suggests and there is a nice subtlety to the way its two leads speak. We get a good sense of who they are through minimal dialogue with Schofield being particularly interesting. Chapman and MacKay give terrific reserved performances that fit the film's style well. There are some notable appearances by Andrew Scott (Sherlock), Mark Strong, and Benedict Cumberbatch as British officers they encounter along the way. There is also a very strong scene in a bombed out French village that I will allow you to be surprised by.
I have long believed that a movie's success is far more dependent on the way it tells its story than the story being told. 1917 could have been a dry, more traditional and ultimately generic war movie but through immersive filmmaking it becomes one of the better films of 2019 and one of the more memorable and unique war movies ever made. There is an ongoing debate about whether or not the theatrical experience is dying or even matters anymore, but in regards to 1917 it's not even a question. This should absolutely be seen in a theater.