8 Jan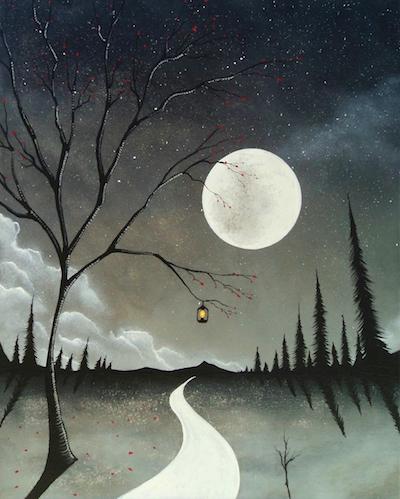 I recently discovered the work of artist Owen Klaas. He is a painter who sells his work through his company Fiendish Thingies. When I first saw his paintings, I was astounded. These pieces were dark and moody, and seemed to owe a lot to the German Expressionist films of the 1920s. They were primarily landscapes, featuring bare, ragged trees, angular mountains, and lonely paths winding through the darkness. It's what the world would be like through the eyes of Dr. Caligari.
And yet these paintings were not altogether hopeless. They did not seem to be mere exercises in a melancholy, eerie tone. Were they simply that, I don't think I'd have looked twice; I'd have noted the unique visual quality and moved on. However, there was something about Klaas' work that grabbed me. Within most of the paintings, in the midst of harsh and drab landscapes, there was often a single element that stood out; a splash of color or vitality that broke up the isolated sadness of this world.
This was most clear to me in his piece "Light My Path". In it, we have a large, ominous full moon shining down on a mountainous forest. In a clearing, however, we have a lone tree, leafless and skeletal. This tree grows next to a narrow path that winds its way towards the far off mountains. Hanging just above the path, from the lowest branch on the tree, is a lantern. It is lit, but doesn't seem to give off much light. Just enough to illuminate this specific section of the path, it would seem.
This bit of light – small though it may be – in the midst of a gray, dreary scene struck such a deep chord in me that I found myself getting slightly choked up. It was such a dramatic image to me; a meager yellow lantern piercing the darkness, providing whatever light it can. I found myself – not merely because of the painting's title – thinking of Psalm 119:105, which states, "Your word is a lamp for my feet, a light on my path."
Now, I don't know if Owen Klaas is a Christian, and I wouldn't presume to speculate. Based on some of the titles of his other work ("Prodigal", "Cast Your Burdens", "Iron Sharpens Iron", to name a few), it would seem that he is at least aware of certain Biblical concepts. Whether he puts his faith in the Bible or not actually isn't the issue, though. Truth can shine through even the most unlikely works of art. And, indeed, in Owen Klaas' "Light My Path", I felt God's hope and comfort cut through my own fear and insecurity like that lantern cutting through the darkness.
Perhaps what struck me most was the appearance of hopelessness. This tiny little lantern wouldn't seem to be that effective in the grand scheme of this lonely path. Within a few feet, any traveler would step outside the light's reach and be plunged back into darkness.
However, what is very plain from the painting is that this is only one small section of the path. We are not able to see where we came from, nor where we're going. We only know where we are right now, and that is due to the light of the moon and that stubborn little lantern hanging from a low tree branch. And while it's entirely possible that this could be the only lantern that one might encounter on this path, it's just as feasible that this is simply one of many. Perhaps the entire path is lit by these lanterns, each one illuminating just enough of the path to get the traveler to the next small pool of light.
In that way, I found myself thinking of God's role in our lives. I thought of those dark times when I would trudge along on my own sad and lonely path, not really sure where I was going, and afraid of what might lay ahead. In those moments, I often felt that I had nothing really to go on; that God was providing me with only minimal information. I felt just as alone – maybe even abandoned – as one of Klaas' travelers, only seeing what the lantern would allow, never knowing when I might fall back into ignorance; into darkness.
And yet over and over again, the Bible encourages us not to worry about the future. It tells us to put our lives into God's hands. We are even given illustrations – through both historical account and parables – of God providing enough to get us through today, but scolding us when we continue to worry about tomorrow.
As I look at "Light My Path", I am reminded of the fear and doubt that plagues my mind whenever I embark on something new. I demand assurances from God that everything will go well and that I will be let in on the larger plan; not just today's plan, nor tomorrow's, but His plan for the rest of my life. And when I am eventually told that I am only allowed to see what God has in store for me today, I rage against my circumstances and try desperately to arrange my life so that I won't need to rely on God, whose elusiveness borders on the perverse.
But this is where the comfort of the painting comes in, indicated first by its title. It's not called "The Lit Path", which would be a simple statement of what we're seeing. Instead, it is called "Light My Path". It is a plea on the part of the traveler to some unseen person or force that they would provide hope, knowledge, and comfort about where the traveler is at this moment. It is, in effect, a prayer for guidance.
And, as we look at that lantern, we see that guidance. We see that comfort. It may not seem like much – and could even be seen by some as a mocking reply, as it is so small a help – but it is enough for right now. At this moment, the traveler can decide to focus on when the next lantern will show up, or simply be thankful for the one that is currently lighting his path, showing him the way.
As we go through life, trying desperately to squeeze any bit of information from God about His plan for our lives, we often focus on what we don't know about the future. Meanwhile, if we would only look at how far we have come, and where we are right now, we would see God's intervention, inspiration, and support. In essence, if we could only stop thinking about the potential darkness of the road before us, and instead see where we are, and where we have come from, we would look back and see a fully lit path, clear and bright, illuminated by a series of small lanterns, each giving us just enough boldness to continue on. And in that moment, we would turn back to the path that lay before us and step out into the darkness, confident that the next lantern is just around the bend.