30 Oct
After honing his skills on the cult comedy television classic Spaced, director Edgar Wright made his brilliant film debut with 2004's Shaun of the Dead. Working as both a zombie film and a romantic comedy, Wright displayed an uncanny ability to blend genres which he perfected in his follow-up, 2007's Hot Fuzz, which is easily one of my top 10 personal favorite films of all-time. His next two movies, Scott Pilgrim vs. the World and The World's End were further illustrations of Wright's unique comedic and filmmaking talents. He then followed with 2017's Baby Driver, a film with plenty of humor but the first movie of Wright's that one wouldn't primarily classify as a comedy. 
Now with his long delayed sixth feature, Last Night in Soho, Wright has made a full on psychological horror film and the result, while good, is his most flawed movie to date. I wouldn't argue that the lack of comedy is the problem, however. His ability to create a well-developed protagonist coupled with his deft and confident directorial style remain strong but its ending and what it's saying with its ending are questionable at best. As this is not a spoiler review, I will not be getting into the details of that ending here but as Wright has been a master of setup and payoff throughout his career, it's a disappointing way to walk away from one of his films. There is so much to like here though, that I wouldn't want to deter anyone from seeing Last Night in Soho. Maybe the mild disappointment is simply a matter of the director of five movies I've loved has now made one I "merely" like.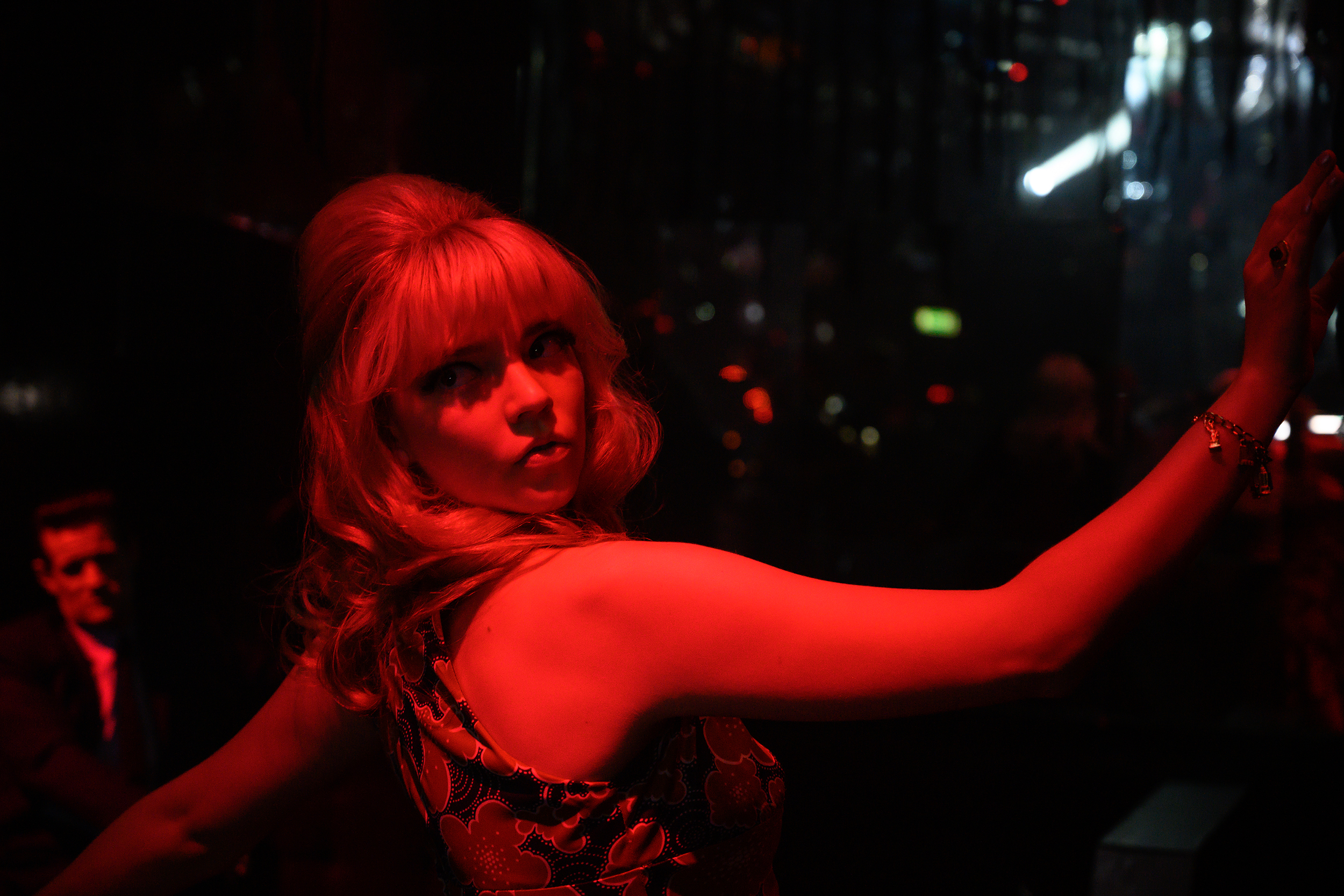 Eloise "Ellie" Turner (Thomasin McKenzie, Jojo Rabbit) is a young woman living in the English countryside in the present but with an obsession for all things London in the '60s. Living with her grandmother, Ellie will often see her mother- who had taken her own life- around her home. Ellie's mother had dreamed of being a fashion designer but mental illness tragically destroyed her. Now Ellie has been accepted by the London College of Fashion to pursue her dream of becoming a designer for both herself and her beloved mom.
Almost immediately, Ellie finds modern day London and her horrible roommate, Jocasta (Synnove Karlsen) to be overwhelming so she quickly finds a quiet place to live run by the elderly sharp-witted Ms. Collins (Diana Rigg in her final role). On her first night in her new home, Ellie finds herself vividly dreaming of London in 1966, becoming a young aspiring singer named Sandie (Anya Taylor-Joy). Each night Ellie escapes her dreary reality to live Sandie's life in her dreams. The dreams soon become nightmares however, as Ellie sees disturbing visions and starts to question if what she's seeing really happened.
Written by Wright and Krysty Wilson-Cairns (1917), Last Night in Soho is, more than anything, about how terrifying being a young woman in a major metropolitan city can be, whether it's 1966 or the present. The shy and withdrawn Ellie is chilled by an encounter with her cab driver upon her arrival in London in a very effective scene. The more extroverted Sandie seems to be able to handle unwanted advances with more confidence but we see it's because she is already so used to them by the time she shows up in the heart of London. At first, her manager and boyfriend, Jack (Matt Smith), would seem to be her protector but it's apparent very quickly that he is anything but.
Wright and Wilson-Cairns write both Ellie and Sandie with a great deal of depth and the performances of McKenzie and Taylor-Joy bring them to life wonderfully. Wright also does an outstanding job of displaying Ellie's terrifying inner life. As Sandie's life becomes more tragic, Ellie's mental state deteriorates more and more. The visions spill into her waking life as those around her see her as a freak, save John (Michael Ajao), a good-hearted fellow fashion student with a crush on Ellie.
While this is decidedly the least comedic movie Wright has made so far, he still knows how and where to effectively deploy a joke. After all he's not M. Night Shyamalan, trying to desperately "inject humor" to lighten the mood only to fall on his face. Like Jordan Peele was able to at just the right moments in Get Out, Wright's mastery of comedy is an ace in the hole for him exactly when he needs it. Some of the earlier interactions between Ellie and Ms.Collins are particularly funny and they show one last time how brilliant Diana Rigg really was. She is greatly missed.
Ultimately (but without spoiling it), the problem with the ending is that it doesn't really work given the overall tone of the film. The movie seems to want us to get on board with something that is a bridge too far. In films that are tonally different that can work but it doesn't work here and when a movie's ending doesn't land the way it should it can take a serious amount of air out of the room.
Despite a letdown of a conclusion however, Last Night in Soho is another one in the win column for Edgar Wright. It's also exciting to see him make something so different than what he has made before while maintaining his distinctly recognizable voice as a filmmaker. Whichever direction he goes next, I very much look forward to it.