29 Nov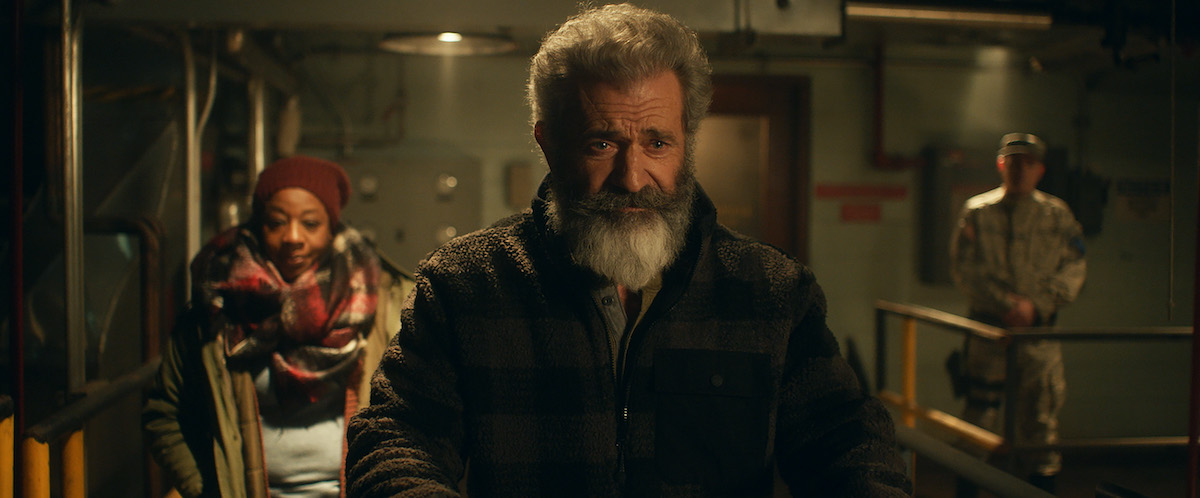 In 1987, Mel Gibson played Martin Riggs, a cop with a death wish in Lethal Weapon, which has become an untraditional Christmas classic. 33 years later, Gibson is back for more Christmastime violence – in the role of Santa, no less – in the gleefully inventive Fatman. 
Gibson's Santa isn't exactly who you'd picture. Chris Cringle (that is how he spells it) lives with his wife, Ruth (Marianne Jean-Baptiste) in North Peak, Alaska on an unassuming farm that happens to house Santa's workshop and its massive elf workforce. The Cringles are in serious financial trouble. They are subsidized by the U.S. government based upon the number of presents they deliver. However, with children becoming increasingly naughtier, fewer and fewer gifts are produced each year. One of those naughty children is Billy Wenan (Chance Hurstfield), a boy who keeps a hitman on retainer. After Billy uses his hitman, Jonathan (Walton Goggins) to threaten a girl who beat him at the school science fair, he of course receives a gift-wrapped lump of coal on Christmas morning. Now Billy is out for Santa's blood, and Jonathan's own disappointments from Santa as a child make him all too eager to take the job. Chris meanwhile, begrudgingly takes a job of his own from the government to produce fighter jets in order to keep his operation afloat.
Written and directed by the Nelms brothers – Ian and Eshom – Fatman is a movie that really could have gone either way and thankfully it hits all the right notes. Dark comedies – particularly those set at Christmas – can sometimes be too impressed with themselves, as though the filmmakers are smugly reminding us how subversive they are. The Nelms brothers don't do that here. They put real thought into their twists on Santa Claus lore and this seems to be a world where adults and children alike just accept that Santa is real. All of the legends about him being a fat man in a red suit who lives at the North Pole are useful to Chris as they keep people off of his scent, though he does seem to resent them. Without the film getting into more detail than necessary, we get hints of how he, Ruth, and the elves maintain their longevity. Those hints also help make it clear just what's at stake should this government contract not work out for them. It's all well thought out and explained just enough for it to make perfect sense.
The real fun of Fatman comes from the dialogue and the performances of the two leads, Gibson and Goggins. Gibson really makes us believe that this hard-bitten man is in fact, Santa. He does know if you're naughty or nice and you truly "better watch out." He does have a soft beating heart underneath it all though. He wants the kids to be good and he wants to reward them but he's not lowering his standards as children become worse. Gibson's scenes with Jean-Baptiste make the Cringles' marriage feel truly lived in and real. These two stand by each other through everything. It gives Fatman a real heart.
Goggins for his part is perfection, because Walton Goggins is incapable of delivering anything less. He is as hilarious as he is menacing. His Jonathan is absolutely ruthless but his annoyance with little Billy's phone calls make him weirdly relatable. In those moments, we can't help but like the guy. He also looks even cooler than James Bond (and maybe even Archer) wearing a tactical turtleneck and white jacket in the snow. Jonathan is a well-written character whom Goggins elevates with one of the more enjoyable villain performances in recent memory.
Fatman is terrific Christmas fun for adult audiences thanks to its imaginative screenplay, sharp direction, and two outstanding lead performances. Currently available to rent or own on VOD, this is one of the better comedies of 2020 and a movie that I will happily add to my Christmas film staples.