14 Nov
A couple of years ago, Quentin Tarantino's Once Upon a Time in Hollywood took a loving look at Los Angeles in 1969. It was personal without being at all autobiographical. Now writer-director Kenneth Branagh has made a film that examines the world of his own childhood, also set in 1969. Belfast is the story of a young boy named Buddy (Jude Hill) who is about the age Branagh would have been at that time. The opening scene of the film sees the camera gliding joyfully above the streets on a summer day as the whole neighborhood engages in play and conversation with one another. Everyone knows everyone by their first names and there's a sense of community that seems hard to imagine for most of us. However, this idyllic scene quickly turns to horror as a massive riot breaks out in which a violent sect of the local Protestant community attacks Catholics and causes destruction.
Buddy's "Pa" (Jamie Dornan) is regularly away for weeks at a time as a construction worker who must travel to England while his "Ma" (Caitriona Balfe, Outlander) raises him and his older brother Will (Lewis McAskie). The family is also incredibly close to Pa's parents, "Granny" (Judi Dench) and "Pop" (Ciaran Hinds), who are frequently over at their house. Buddy loves his life in Belfast. He gets into misadventures with his cousin Moira (Lara McDonnell), has a crush on a girl in his class whom he already plans to marry, and he loves nothing more than to go to the local cinema with his family. While the early days of "the Troubles" certainly loom large over the film and are the main factor which drives the story (Pa wants to get them out of Belfast while Ma insists it's their home), Branagh isn't interested in a broad look into them here. This is the story of one family in the midst of the growing chaos as they try to continue finding joy in their lives through it all and for the adults, questioning if it's right to leave or not.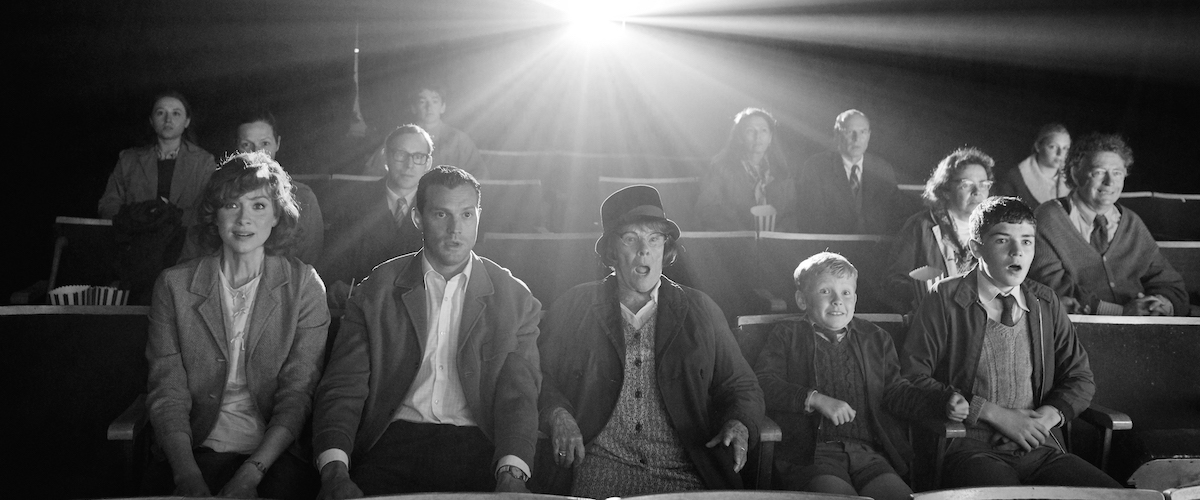 As a Protestant family, they are still targeted by a vicious Protestant gang who demands that everyone either join them in their acts of violence or, if they're not willing to go that far, pay a significant price to be left alone. Pa has no plans to do either of those, but knows that his refusal could mean terrible things for himself and his whole family.
Shot in black and white, Belfast is carried by the sense of childlike wonder amidst the chaos and by a uniformly wonderful cast. Hill is really terrific here and as the film is largely through his eyes he has a lot to carry on his shoulders. His scenes with McDonnell are particularly fun. They have a natural banter that is very funny and make for the most enjoyable scenes in the film. Balfe and Dornan make their marriage feel very real and lived in. Their opposing ideas about whether or not to leave and the length of time it takes for them to weigh their decision is fully believable. As Buddy's grandparents, Dench and Hinds are both delightful as can be. Hinds has long been an outstanding actor who has somehow never quite gotten his due. Maybe this will help with that.
Tonally, the film is mostly successful as it goes from comedic and charming to more serious, however there are a few moments that don't work in that regard. Buddy being chased down the street by his mom in the midst of another riot is meant to be funny but it is just out of place. Another earlier scene involving Buddy and Will at church features an absurdly over the top pastor who belongs in a much broader film. Thankfully though, these missteps are few and far between. Overall, this is a highly enjoyable and very easy to recommend movie.