2 May
In my recent appearance on the More Than One Lesson podcast we spoke about a lot of movies, so I decided for my next article I would write about a few sort of under the radar TV comedies.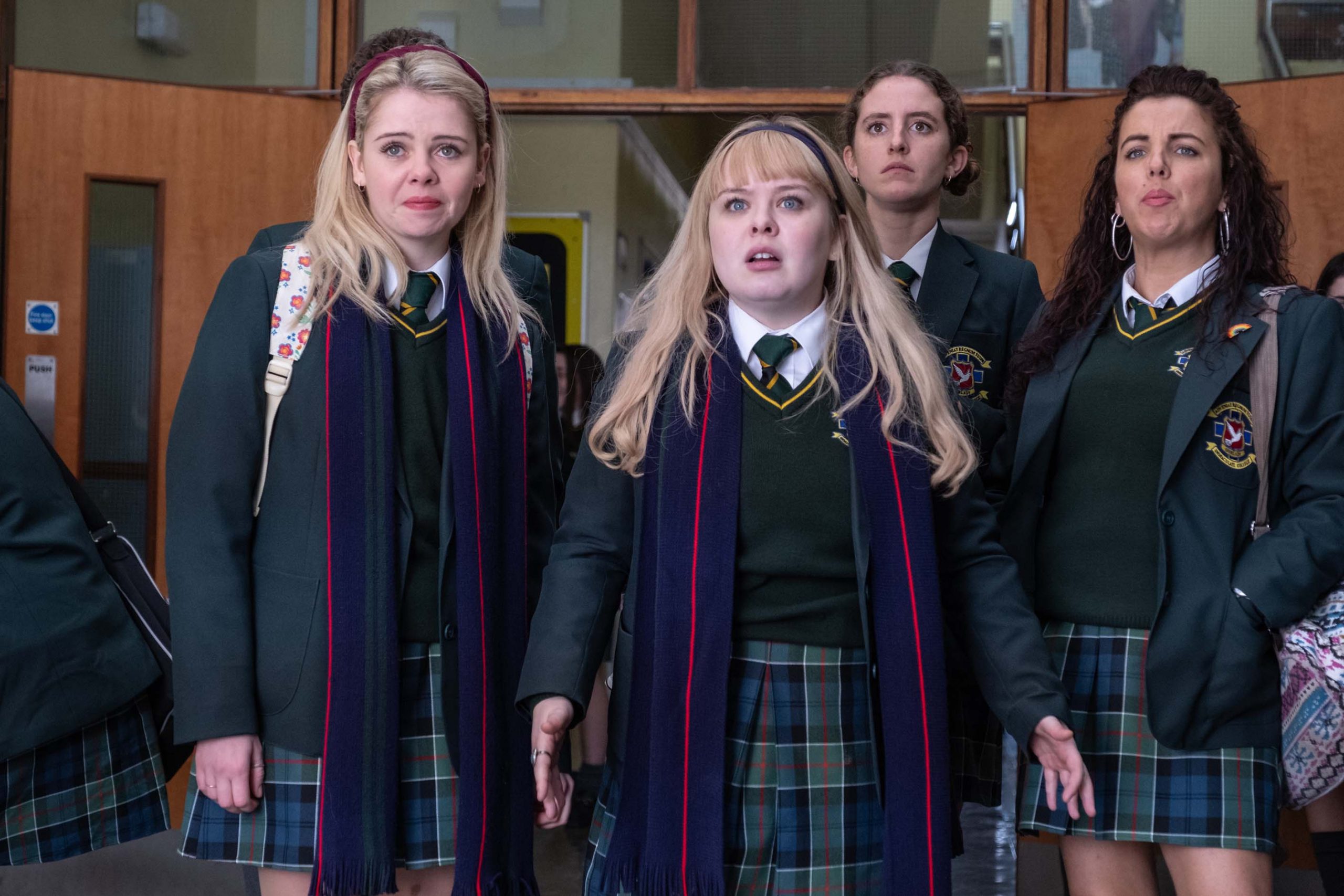 Derry Girls – Simply put, this '90s set story of a group of friends at a Catholic high school in Ireland makes me laugh incredibly hard. Created by Lisa McGee (who has written all 12 episodes so far), it boasts terrific scripts and a supremely talented young cast. Saoirse-Monica Jackson stars as Erin Quinn, a girl with big ambitions but who repeatedly gets in her own way, either by inserting her foot directly into her mouth or taking some kind of bold but deeply misguided action. Her cousin Orla (Louisa Harland, the funniest member of a very funny cast) lives with Erin's family. Orla is the least intelligent of the group but has a strangely admirable lack of self-awareness. Their other friends include the often scared yet determined Clare (Nicola Coughlan), troublemaker Michelle (Jamie-Lee O'Donnell), and Michelle's English cousin James (Dylan Llewellyn), the only boy allowed to attend the all girls' school, due to fears for his safety at the all boys' school. This is still the time of "The Troubles" between Ireland and England, which remains a sobering backdrop to this otherwise hilarious show. In terms of how James is treated, he's really just a constant butt of his friends' jokes, particularly from Michelle.
Through its 2 seasons (a third is on its way), Derry Girls has displayed a kind of Freaks & Geeks mentality, embracing its characters' oddities, painful gaffes and all. The adult cast members playing Erin's family and the nuns at the school are also great, nailing the tone McGee is going for. With each episode running about 23 minutes, Derry Girls can be torn through in a single evening if you really want to. There's a good chance you will. All episodes are available on Netflix.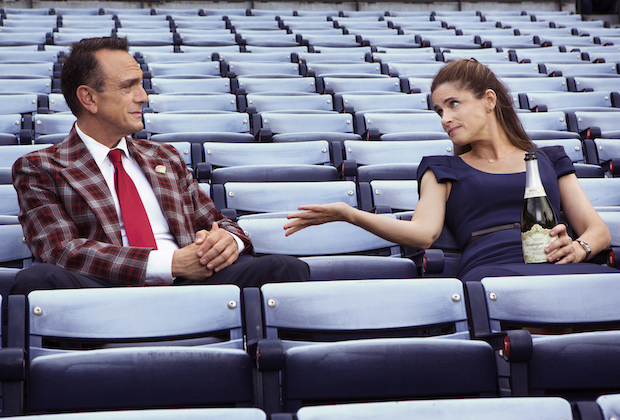 Brockmire – As someone who loves both film/television and baseball, I always find it somewhat irritating that whenever I recommend a movie or show that has baseball in it, there's this moment when I see the look on the person's face and I have to tell them, "It doesn't matter if you like baseball or not, it's really good." Literally no one has ever had to say, "Look, I know you've never been a New York cop who's gone to L.A. for your estranged wife's Christmas party, only for it to be taken over by thieves posing as terrorists who only you could stop, but just…just give Die Hard a chance, I think you'll like it." So I'm going to just say, Brockmire is a hilarious character driven comedy about a man who happens to be a baseball announcer.
Jim Brockmire (Hank Azaria) was once a beloved institution in the midwest as the radio announcer for the Kansas City Royals. Well on his way to becoming as beloved by his home town fans as the likes of Harry Caray, Dave Niehaus, or Vin Scully, Jim has a drunken on air breakdown upon learning of his wife's infidelity. We pick up with Jim 15 years later, still disgraced from the incident and a national laughingstock who desperately wants a chance to get back to the Major Leagues. Unfortunately, his life has spiraled out of control as man seemingly addicted to every vice imaginable but Jules James (Amanda Peet) gives Jim a chance to broadcast games for a minor league team in Pennsylvania. It's a far cry from Major League Baseball, but it's a start.
Brockmire unfolds as the unlikely story of a man's believable and gradual growth from an awful, broken down person to a significantly better one. It's incredibly funny but with a beating heart where the emotional beats feel earned because we see Jim's struggle every step of the way. Azaria is excellent displaying Jim's raw emotions. While there is no separation between Jim's "announcer voice" or his normal speaking voice, it doesn't become a tiresome gimmick. That's just Jim Brockmire to his core, something Azaria completely sells.
Brockmire's first 3 seasons (8 episodes each) are currently available on Hulu. The finale of its fourth and final season is set to air on IFC this week as of this writing.
Schitt's Creek – This has become the most popular show of the ones I'm covering in this article but it's still a series whose fan base will only continue to grow after it's ended. I had long intended to start watching this but as someone who doesn't "binge-watch" particularly well, I just thought after 4 seasons that it was going to take me awhile to get through. It was perpetually "on my list." Finally though, a friend of mine who has clued me in to a lot of great shows over the years essentially made me sit down one night and start watching it with her. I am so happy that she did.
This wonderful Canadian series begins as the story of a wealthy family who loses everything but unlike the more cynical Arrested Development (still for my money the funniest TV series so far this century, the Netflix seasons decidedly not withstanding), Schitt's Creek poses the question, "What if these people could grow?" Johnny Rose (Eugene Levy) was once the head of a large home video company while his wife Moira (Catherine O'Hara) is the former star of a popular TV soap, but whose celebrity has faded. Meanwhile, their adult children David (Daniel Levy, who created the show with his father Eugene) and Alexis (Annie Murphy) are completely disconnected from reality. With their vast wealth gone, their only choice is to go to a small town named Schitt's Creek, which Johnny once bought for his son as a gag birthday gift, due simply to its name. The four of them end up living in the only place they can now afford, an infrequently inhabited motel.
Over 6 seasons and 80 episodes, Schitt's Creek somehow only gets better and funnier as it goes along. While it still definitely has room to grow at the beginning, it starts out strong enough to get you on board and keep you there and there really are no noticeable dips in quality over the course of its run. The core cast is perfect and we have no trouble believing their lived-in family dynamic. Johnny is definitely the straight man to the rest of his family's quirkiness, but even he has his share of oddities, and Eugene Levy brings Johnny to life exceptionally well. David is perpetually somewhere between horrified and panicked, while Alexis never loses her sense of style or belief that this will be anything more than a blip. One of the funnier aspects of the show is the way Alexis will casually reference celebrities she's either dated or just had strange experiences with. The way that characters discuss moments from their past has a subtlety to it that you don't normally see. It's never that awkward, "Hey, remember that time when…" where the conversation sounds like it was written specifically for an audience. It just sounds like people recounting things the way real people do, but on a sitcom.
The supporting cast includes outstanding work from Emily Hampshire, Chris Elliott, Dustin Milligan (playing the town vet and Alexis' longtime boyfriend Ted), and from season 3 on, Noah Reid as David's boyfriend Patrick. Patrick's ability to remain calm and steady in the face of any situation complements David's melodramatic state of mind wonderfully.
Saving the absolute best for last though, Catherine O'Hara cements her status as one of the funniest and most legendary actors who's ever lived as the odd, loud, and decidedly unique Moira. Her bizarre and inexplicable accent perfectly suits not only the words she speaks but her entire personality. It's the kind of character and performance that people will remember decades from now as one of the best they've ever seen on television. Her pronunciation of the word baby ("Bebe!") alone should have won her every award she would be qualified for, plus some new ones invented specifically for her.
The first 5 seasons of Schitt's Creek are currently available on Netflix. It's excellent sixth and final season will undoubtedly be there soon.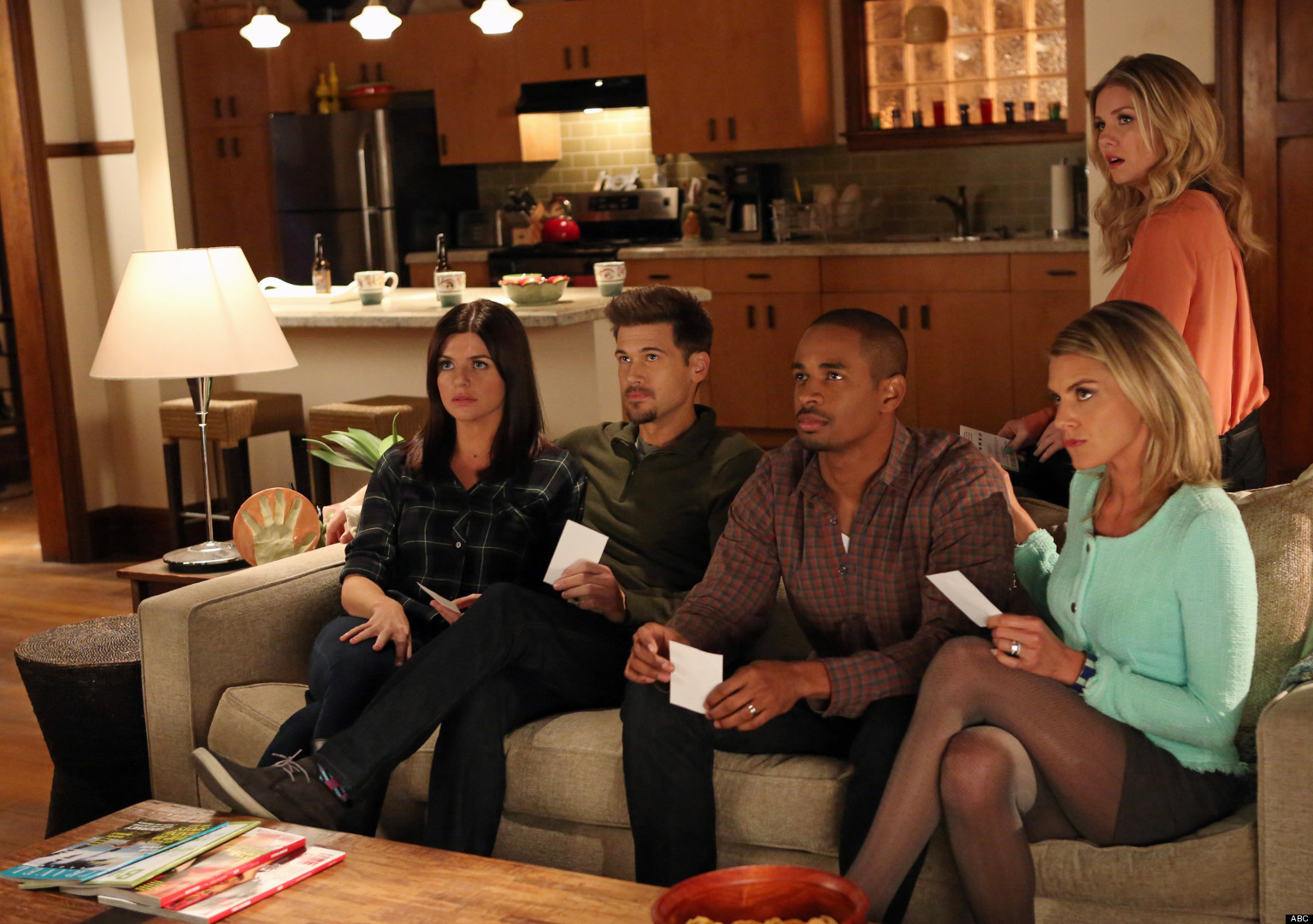 Happy Endings – This all too short-lived sitcom which ran on ABC from 2011 to '13 was recommended to me by another friend of mine whose tastes are very similar to my own. I only just recently started watching it and haven't even finished it yet (I'm halfway through its third and final season) but I can say unequivocally that it's one of the most absolutely delightful shows I've ever seen. This story of a group of six friends in their late twenties begins with Alex (Elisha Cuthbert) leaving Dave (Zachary Knighton) at the altar in its opening scene. The other four members of the group are Alex's older sister Jane (Eliza Coupe), her husband Brad (Damon Wayans, Jr.), his longtime friend Max (Adam Pally), and Max's ex-girlfriend Penny (Casey Wilson). Despite the setup, this group is able to stay together and the result is (as I put it to my friend), "If Friends was funny and had likeable characters." While Happy Endings certainly has the kind of '90s sitcom logic to its stories and characters that doesn't usually work for me, it's so funny in its execution that I when I'm not laughing, I'm smiling. It's a show that is so unapologetically silly that an entire episode features Max wandering around his apartment acting like a bear- to the point where he's eating honey with his hands straight out of a jar- and I loved every second of it.
As I noted above, I don't tend to binge-watch things. I usually like to break them up a bit, but Happy Endings is so easy to watch that I've torn through its first 44 episodes incredibly quickly and will probably end up watching a few more as soon as I finish writing this article. I love spending time with those characters, it's very funny, and it really does make me feel good. The entire series is available on Hulu.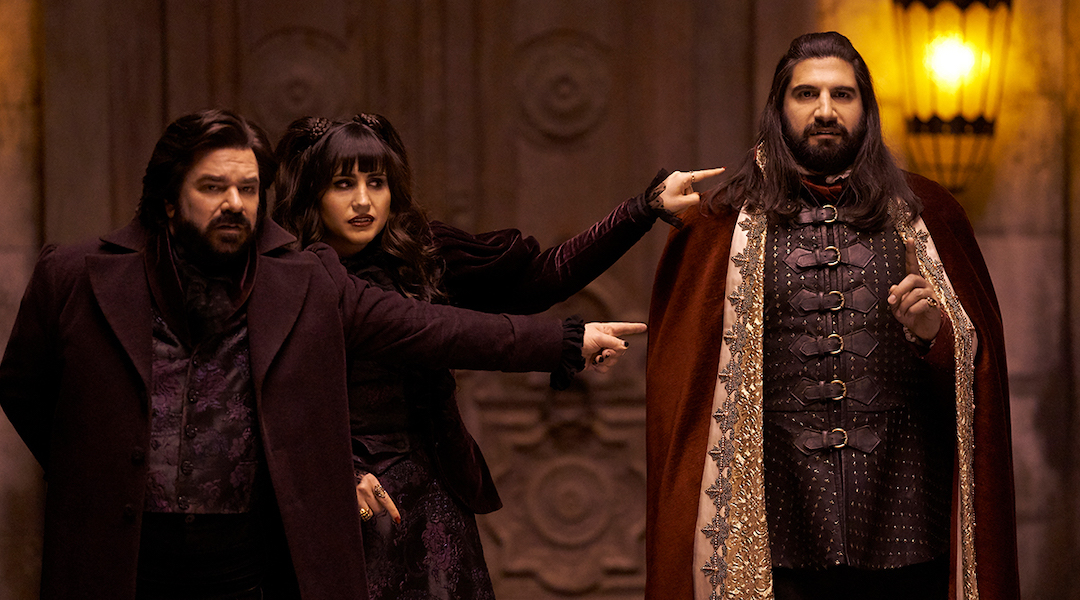 What We Do in the Shadows – Currently in its second season on FX, this mockumentary about vampires living in modern day New York is based on the 2014 film of the same name. Nandor the Relentless (Kayvan Novak) is over 750 years old and is the self-appointed head of his household. His roommates include Nadja (Natasia Demetriou) and her husband Laszlo (Matt Berry, The IT Crowd), whom she sired centuries ago. There is also Nandor's human familiar Guillermo (Harvey Guillen), whose dream is to become a vampire himself and finally Colin Robinson (Mark Proksch), an energy vampire. Colin Robinson (he is always addressed by his full name) doesn't kill, but he feeds off the energy of co-workers by boring them with dry stories on any dull subject that comes to mind.
Maintaining the same dry tone as the film, this series is a brilliant and hilarious ensemble comedy about pompous characters who are completely clueless about how little they understand about the world, despite how many centuries they have lived in it. The most recent episode featured Nandor checking his previously unused e-mail account and opening a "cursed" chain message. Nandor, Nadja, and Laszlo take the curse completely seriously, frantically trying to find 10 addresses to forward it to so they can avoid being killed within 24 hours. This show is consistently inventive and clever. I look forward to it every week. Every episode, including its current season is available on Hulu.