19 Apr
Coming six years after their brilliantly bonkers debut feature, Swiss Army Man, Dan Kwan and Daniel Scheinert have delivered a movie that is no less unique but one that is much more ambitious on multiple levels. Everything Everywhere All At Once stars Michelle Yeoh as Evelyn Wang, a woman exhausted from owning and operating a laundromat with her husband, Waymond (Temple of Doom and Goonies star Ke Huy Quan, returning to acting after several years away). She is also struggling with taking care of her elderly father, Gong Gong (the legendary James Hong) and has a deeply strained relationship with her 20-something daughter, Joy (Stephanie Hsu). On top of that, IRS agent Deirdre (Jamie Lee Curtis) is coming down on Evelyn hard over some questionable business expenses. As if all of this were not enough for Evelyn to deal with, it pales in comparison to the news Waymond gives her, which is that she is the key to preventing the collapse of the multiverse. Evelyn – and the audience – are about to go on an adventure beyond anything she could have imagined.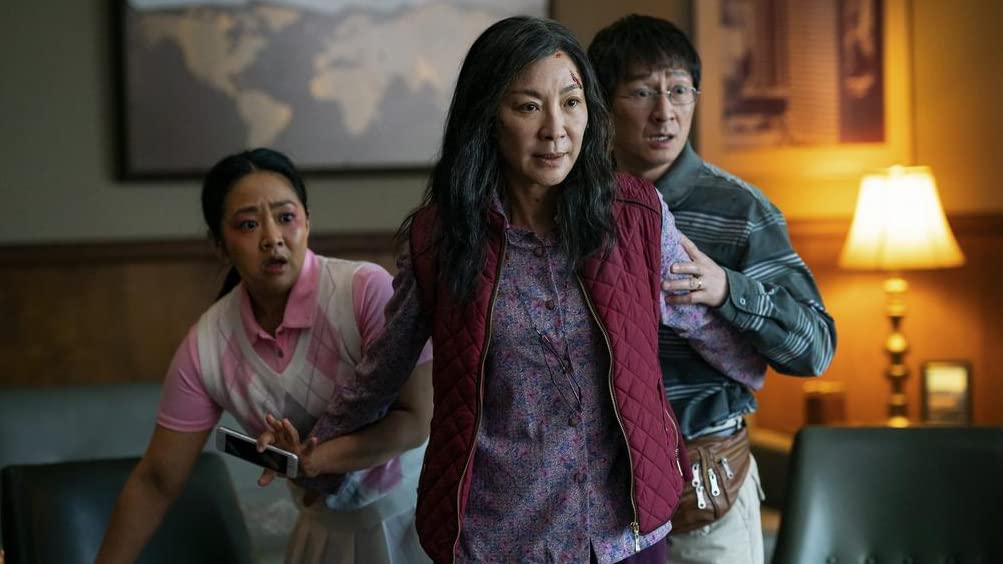 Everything Everywhere All At Once is that rarest of combinations in the modern cinematic world. It is a wholly original, unapologetically weird art film with meaningful things to say about life that is also a massive crowd pleaser with fantastic action sequences and laugh out loud comedy. Daniels have slipped a profound and legitimately moving message that can reach into the heart of its audience inside of a wild and ludicrously entertaining package. This is everything you could want a movie to be. Everywhere. All at once (sorry, it was sitting right there.)
The cast is an absolute delight. As the lead, Yeoh makes us believe her journey from someone full of regrets and doubts who's just trying to get through the day to the person she grows into by the end of the film. She delivers every emotional beat beautifully, is effortlessly funny when she needs to be, and of course she carries the action sequences perfectly as well. Quan for his part is a joy to watch. Even as someone who doesn't particularly care for Temple of Doom or for kid actors in movies like that in general, I always liked him as Short Round. So it really put a huge smile on my face to see him deliver such a wonderful performance here as Evelyn's devoted husband. He gets some brilliant thrilling action moments of his own and you would never know he had stepped away from acting for so many years. Hong is as much of a treasure as he has ever been, Curtis is a hoot and gives depth to what could have been a one-note character, and Hsu does a terrific job having to display the widest range of anyone in the film, due to the nature of her character (I don't want to say too much about that).
Daniels have a lot to say about the choices we make in our lives and you really do think about that during and after the film. Yeoh and Quan each display a yearning in the more melancholic moments that hits you emotionally but there's ultimately a positivity to these questions about our choices and who we have the capacity to be. This is a film full of genuine warmth, engaging the heart and the head while also being one of the more entertaining movies in recent memory.
Everything Everywhere All At Once is the kind of movie I really hope is successful in theaters and one that is a blast to watch with an appreciative audience. Gleefully bizarre art films that can make a packed theater laugh and cheer deserve to be supported and if you complain about the endless parade of franchise films and remakes that dominate theaters, then you absolutely must get to this if it's at all possible for you. I recommend this as highly as I can and I hope you'll see it on a Friday or Saturday night.