5 Nov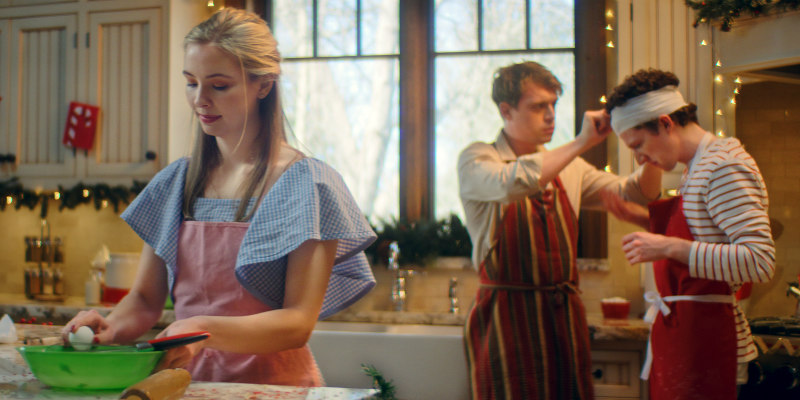 "Dying is easy. Comedy is hard." Dying – or drama – and comedy have one key thing in common. Both of them tend to work best when they are treated seriously. Even when the comedy is a very silly parody. Throughout the 1980's, the team of David Zucker, Jerry Zucker, and Jim Abrahams demonstrated how to do this right with Airplane!, the all-too-short-lived TV series Police Squad!, and that show's much more successful spin-off film, The Naked Gun. They achieved this through brilliant writing and equally brilliant casting, emphasizing sincerity from the performances. Dramatic actors such as Lloyd Bridges, Robert Stack, and Leslie Nielsen delivered utterly ridiculous dialogue with complete seriousness in Airplane!, and that very simply is why it worked. If Nielsen had said, "I am serious. And don't call me Shirley," pulling a goofy face, it would have killed the joke. The makers of Cup of Cheer would have done well to heed that lesson.
Mary Nice Lady (Storm Steenson) is an ambitious young reporter in "the big city," who's sent to a small town to write a story at Christmastime. Immediately upon arriving she has a disastrous meeting with Chris Miss (Alexander Oliver), who runs a small cafe. This of course leads to Mary and Chris running into each other repeatedly and falling in love, all while Chris's business is threatened (along with his life for some reason). Can Mary help Chris save his family cafe by Christmas Eve?
There isn't much to say about Cup of Cheer's story. As a parody of Christmas-based romantic comedies, it's all very clear where that is going. One thing it does have going for it is that it's not littered with scenes parodying specific movies, a la the Friedberg-Seltzer garbage pile. Cup of Cheer has jokes instead of references, so co-writer/director Jake Horowitz is trying here. Unfortunately, very few of these jokes hit. This is due in large part to the way that the jokes are laid on so thick, both in the screenplay and in the performances. That's not necessarily the fault of the actors, who are simply serving what's been written and how they are being directed. It's mostly very broad but every once in a great while a joke hits perfectly. It only happens four or maybe five times over the course of the film's 95 minutes though, which is not nearly often enough to make the sit worthwhile. To the movie's credit though, those four or five laughs really are big. It shows that Horowitz and co-writer Andy Lewis may be able to make something much better in the future.
The cast of this Canadian production consists mainly of newcomers and based on what they're given to work with it's difficult to tell how bright a future any of them may have. Liam Marshall seems to fare best though as Chris's younger brother, Keith. There's no real breakout star here though, but maybe over the next few years we'll see some of them more often and get a sense of what they can do.
Cup of Cheer is disappointing but if you're in the mood for a great parody, Airplane! is currently streaming on Netflix. Having re-watched it earlier this year I can safely say that it more than holds up 40 years since its release. I also highly, highly recommend the recent Blu-ray release of Police Squad! Sadly, only 6 episodes were produced, airing in 1982. Each episode is densely packed with ingenious sight gags and clever wordplay. Leslie Nielsen would prove that his work in Airplane! was no fluke, portraying Detective Lieutenant Frank Drebin with the utmost seriousness. In the series pilot, Drebin tells a grieving widow, "We're sorry to bother you at such a time like this, Mrs. Twice. We would have come earlier, but your husband wasn't dead then." The line is only funny if it's delivered with sincerity, which the ZAZ team and Nielsen fully understood. It's a crime they only got six episodes.
So this Christmas, skip Cup of Cheer and buy Police Squad! for yourself and the comedy lovers on your list.