27 Oct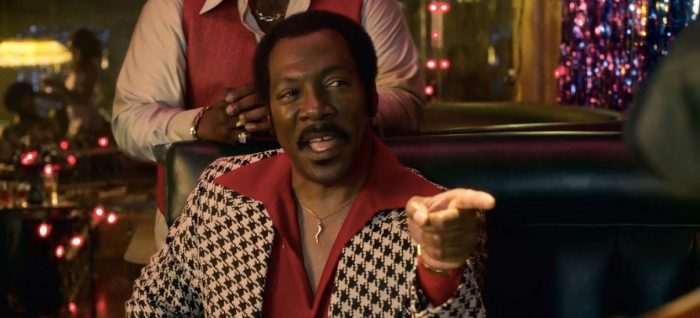 There's a scene early on in Tim Burton's greatest film Ed Wood in which Ed (Johnny Depp) and his friends read scathing reviews of the new play he's directed. Still, Ed looks for the positive, emphasizing that the theater critic stated that the costumes looked realistic. There's a similar scene near the end of Craig Brewer's Dolemite is My Name where Rudy Ray Moore (Eddie Murphy) finds the positive in equally scathing reviews of his new film Dolemite. Both Ed Wood and Dolemite is My Name are written by Scott Alexander and Larry Karazewski, and the writers have a clear affection for both Wood and Moore. There is a key difference between the two scenes and the two central characters however. While Ed continually struggles and never finds success, Rudy does find it and experiences genuine appreciation in his time from the audience he'd most hoped to connect with. This gives Dolemite is My Name a sense of triumph that makes it one of the more genuinely uplifting movies to come along in some time. The struggle to get there is what makes it relatable and makes the ultimate triumph feel earned.
In the early 1970s, Rudy Ray Moore is almost 50 years old, working in a Los Angeles record store by day and as a club emcee by night. Having failed to make it as a singer, Rudy still dreams of breaking out as a star. He sees hope in the form of a talkative homeless man who tells stories of a man named Dolemite through profane rhymes. Putting on a costume and taking on the persona of Dolemite, Rudy makes him a real character, transforming his emcee act into a raucously popular standup routine. Soon, he's selling records at an incredible rate without a label out of the trunk of a car. While Rudy has become a smashing success touring as Dolemite, it's only after going to see Billy Wilder's The Front Page that he realizes the mountaintop is to make a movie. "Then I can be everywhere!"
Similarly to Ed Wood, Dolemite is My Name takes an approach that seems to say, "We know this isn't how it really happened but it's how it should have happened." While Brewer's film is not suprisingly less fanciful than Burton's, they share the same spirit. Both Ed and Rudy are able to rally friends to their side and they both show a genuine appreciation and affection for their allies regardless of a complete lack of experience. The making of Dolemite is where Dolemite is My Name shines brightest. Rudy's, "Let's put on a show!" mentality is infectious with everyone working on Dolemite with the notable exception of the film's director, D'Urville Martin (Wesley Snipes doing his best work in years and possibly ever). Martin was an experienced actor having appeared in Guess Who's Coming to Dinner and Rosemary's Baby. As depicted here, Martin sees Dolemite and everyone in the cast and crew as beneath him and he is only willing to be involved so he can gain experience as a director.
As Moore, Eddie Murphy gives one of the finest performances of his career. At his best, Murphy has always exuded a natural charisma, as did Moore. Murphy really makes us believe Moore could get so many people to work for him on a movie where the set was an abandoned hotel with stolen electricity. Dolemite is My Name just makes the experience of making a movie in such a way look like ridiculous fun. The film also conflates Dolemite with its far more entertaining sequel The Human Tornado, which, while obviously not accurate, allows for some of that movie's best moments to be included here.
There's a joy and exuberance to Dolemite is My Name that makes it easily recommendable even to those with no familiarity with Rudy Ray Moore or his movies. Along with Murphy and Snipes, the whole cast is terrific, but Da'Vine Joy Randolph is a standout as Moore's close friend, Lady Reed. This is a film that is legitimately funny and truly encouraging to anyone struggling to find his or her place in the world. Dolemite is My Name is available on Netflix now.