20 Feb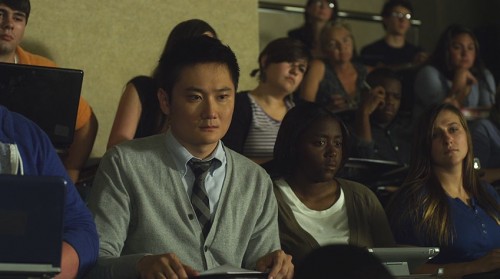 I just got out of seeing the movie Old Fashioned. Here are some things I noticed: It was a Monday morning and the theater was packed. The movie was getting laughs from the audience throughout. When the movie ended, people applauded it. Also, as I was leaving, an older woman sitting in my aisle with her husband asked me, "Wasn't that a wonderful movie?" while I heard another person say, "There needs to be more movies like this." Now, if this is your audience, if this is who you are making movies for, then good job! You guys are succeeding. Not just Old Fashioned, but all Christian films. I remember leaving God's Not Dead and seeing people genuinely excited about it, pulling out their cell phones, I'm guessing to text people, "God's Not Dead" as the movie instructs, and then myself receiving the text "God's Not Dead!" for several weeks after that from random Christian friends. You have an audience. Christians are going to your movies and they are going to continue to go to your movies.
Here's the problem: They are the only people going to your movies. I feel as Christian filmmakers you have to do more, you have to do better. Again, if your goal is to get Christians and ONLY Christians in those seats, then I would say ignore the rest of this message, but I have an inkling suspicion that this isn't really what you want, nor should it be. If you are a Christian trying to spread the gospel- if you are lucky enough to be given hundreds of thousands of dollars, even a few million to get a movie on screens all across the country- I would say you have an obligation to make sure more people hear your message. But the movies you're making aren't doing it. I admit, I am not a filmmaker. I have no clue how hard it is to actually make a movie. I am not a good writer as you can no doubt tell by what you have already read and will see as you continue to read, but I am a fan of film. A big fan. Been watching them all my life. I am such a fan that I listen to directors' commentaries when I watch a movie I like, listen to podcasts with interviews with filmmakers and movie critics, read articles and blog posts about how impossible it is to get a movie made. So I have an idea of how lucky you guys are to get this opportunity. You Christian filmmakers are so lucky to have a Christian production company to finance your films, and to get the opportunity to get your movies advertised, and to get them played in major cinemas, but if the only people going are the Christians who are already convinced they will like it, if the only people who are going are the people who already agree with your message, then you are failing. Our job is to spread the Gospel; to tell others of the risen Messiah to everyone, not just to other Christians. Jesus said in Luke:
"The healthy don't need a doctor, but the sick do. I have not come to call the righteous, but sinners to repentance."
What you guys are doing at the moment is making films for the righteous not for the unrighteous. You are making them for the healthy not for the sick. You have a platform to give a message and you are only talking to Christians! You have to do better. You have to make movies that other people can relate to. That other people will watch. So then what? Drugs? Sex? Bad language? Graphic violence? Maybe… well, maybe not, but you don't need to have those things in your movies in order to make a good film. So I made a list of what you can do to improve your films, so that you can actually make a work of art worthy of inviting other people. Let's get started:
1. Focus On The Story First
You are sacrificing your movie in order to make your message loud and clear. Your audience isn't stupid. We can get your message, even if you use subtlety and nuance. In your Christian films, you guys hit your audience over the head with your message like a sledge hammer. Again, write a good story first, and the message will come out of it. We don't need to be told what to think; we can get there ourselves.
Also, challenge your audience. If there is a problem within our church family, Christian culture, something we struggle with or something we don't even realize is a problem, talk about that. All Christian films do is cheer about how great we are and how wrong everyone else is. Make us think! Make us question the way we've been doing things. This is what Christians need and it's what gets audiences to watch a movie.
2. Stop Making Prosperity Gospel Movies
Christians criticize preachers like Joel Osteen because of his prosperity gospel. He preaches that if you become a Christian you'll become rich, if you follow Jesus only good things will happen to you, if you go to church everything in your life will work out. We disagree with this because we know things don't always work out well for Christians. We still struggle with finances, with our marriages, with temptation. Jesus said "If they persecuted me, they will persecute you." Becoming a Christian doesn't mean things are going to work out for us, it just means we have a savior who will help us through our troubles. But your movies seem to echo Joel Osteen's message. In Fireproof, the couple's marriage ended stronger and better than ever and the Kirk Cameron character changed his wicked ways quite easily. In Courageous, the lead character ends up becoming a great father and a hero. His friend is asked to lie about a shipment for his company and if he doesn't he'll get fired. He then tells his boss he can't do it because it would be wrong, and it turns out it was a test, which he passed and is then promoted. In God's Not Dead, the kid ends up proving his professor hated God and that's why he was an atheist. And convincing his entire class as they stood and proclaimed "God's Not Dead!" Anyway, your message is that if you follow the gospel you will win and good things will happen. Why don't you challenge that?
For example, let's say that, in the movie Courageous, instead of the guy getting promoted for doing the right thing, it wasn't a test and he gets fired. He goes home angry at God wondering why He would give him this great job only to take it away. Sort of reminds you of the widow whom Elijah was staying with after her son died (spoilers for 1 Kings), or Martha angry at Jesus after her brother Lazarus died. BOOM! You got Biblical parallels right there! So in anger he asks his friends why God would do this; his friends respond, "I don't know what to say. I'm really sorry, but we're here for you. Whatever you need, how ever we can help we'll be here for you. You're not alone. We'll help you find a job, we can help through in any way we can. God is here with you, he is weeping with you. He has not forsaken you." Now, isn't that more encouraging?
Or let's take God's Not Dead. What if, at the end, after the last debate the professor asks, "Well, that's it. You made your arguments, you showed us your presentation. Who's convinced? How many people now believe that God's not dead." In a smug and arrogant voice, and no one raises their hand. He convinces no one… except one: the Chinese exchange student. He was convinced and maybe even thinks about reading the Bible. Sure, the lead character now has to work hard and ace all his papers and all his tests just to get a C, which will mess with his grade point average. That really sucks, but he was able to bring one person to the Lord. He brought a soul to Christ, something much more important in the long run. Again, I'm not a writer, but you can work with that.
All I'm saying is just stop making movies about the prosperity gospel. Challenge your audience. Not everyone gets converted, not every Christian has to win. Bad things happen to Christians for being Christian; for doing the Christian thing. The lesson we need to learn is that we have God, and our Church behind us helping us through. Sometimes we suffer for our faith. I know it's too late to change those movies now, but think about what you could have done and do better next time.
3. Lay off the atheists
Seriously, man, you guys are way too hard on those who don't believe in God or those who are not religious. I have many non-Christian friends and they are good, decent, hard-working, supportive, ethical, good-moral-having folks. They don't roll their eyes when I talk about God, they don't tell me to just have sex with everyone I can. They are not the people in your movies. Sure, they do have different moral standards, but that doesn't make them bad people. There are the Christopher Hitchens and Dawkins types and their supporters who are really condescending about our faith, but not every person who isn't a Christian is like that. We need to remember we're not better because we're Christian, we're the same and that's why we are Christian. Which brings me to my next point…
4. I Want My Christian Characters Flawed Like Me
We are also human beings who screw up. Sometimes we're wrong in how we think. Sometimes we are overly judgmental. Sure, sometimes Christian movies show bad Christians and overly uptight Christians, but that only serves to show has awesome our protagonist is. How can I relate to that? How can I relate to a character that is always right and good? Wouldn't it be refreshing if we saw a movie in which a non-Christian is a good person and supportive and perhaps is better than our protagonist and our lead is convicted by that? Wouldn't that show us not just that we can be wrong sometimes, but also that we shouldn't be so arrogant and prideful? It seems that in Old Fashioned the gal spent the whole movie trying to prove that she was good enough to date our guy. What if instead he is really judgmental of her and makes her feel small and, in the end she says, "Listen, I'm not perfect, but I'm trying to be better. You don't have to make me feel bad because I'm not 'as good as you'. The fact is you're afraid of getting close to me and truth be told you could use a lot of growing up! Here I am trying to prove I'm good enough, but how about you prove to me that you deserve a real Godly relationship. Be a man and grow some humility, jerk!" POW!!! She showed him. Again, flawed characters are way more relatable, more realistic and give them the chance to grow as people.
5. Learn To Make Good Movies
Okay, one more thing, that I hope isn't taken the wrong way. Remember, I am doing this from a place of love and encouragement to help you… Maybe some of these Christian actors should take an acting class? Perhaps go to a writing workshop and learn about story structure? Maybe if you have the time, study film in school since you are making films? A really good idea is to look up some lists of the most important movies in cinema history, or some of the best movies of all time and just watch a ton of them. You are filmmakers, therefore you theoretically love film. You have to… if you didn't, you wouldn't be making movies. So spend time watching movies. Learn to edit down your movies (says the guy who's on the fourth page of a rambling blog post). There's no reason why a romance movie should be two hours long (I'm looking at you, Old Fashioned). Something what adds to movies is tightening up your scripts. Cut the fat, maybe some story lines shouldn't be told in order to benefit the rest of the movie. Director Cameron Crowe once said that you know you're a real director when you cut a scene you love in order to make your movie better. When we are watching a movie we are transported into it. We feel what the characters feel, we worry about what the characters worry about, we hope for things to happen and are disappointed when they don't. We get lost in a movie we love, but when a movie is too long, when there's bad acting, when something happens that has no motivation, it takes us out of the film. A well-made, well-acted, well-written film keeps us engaged. These are all things you are capable of! Take classes, work with talented people, watch good movies, and become better filmmakers.
6. Be More Realistic
People swear in real life, people do drugs, people have sex, people do things that are morally wrong. I'm not saying you have to show this stuff, but don't be afraid of it. Roger Ebert was asked about a bad review he had given the movie Blue Velvet. In the film, a female character is sexually mistreated on screen, and he could see how uncomfortable she was as an actress playing the role and not as her character on screen. He said it made him cringe. He said, "Drama holds a mirror up to life, but needn't reproduce it." You can learn two things from that quote: a good filmmaker can depict real life without showing it exactly, but it needs to reflect real life also. Sort of like in the movie Jaws: the shark was much scarier when we couldn't see it. I mean, look at all the old black and white films of the 30's and 40's; there's some real bad stuff going on, but they never showed anything. It was implied, it was suggested, but never shown. In Psycho, Janet Leigh's character was stabbed to death in the shower. It was violent and scary, but we never saw any nudity, we never saw the knife going in, we never saw any blood, until the end when it slowly circled the drain. That scene was really effective because of how it was shot and how little it showed. You probably won't be making a horror movie in which people get stabbed to death on screen, but my point is you can show sinful behavior without showing it actually happening. Hold a mirror up to real life, but don't reproduce it.
Do yourself a favor; watch These Amazing Shadows on Netflix right now. Rent or buy the documentary Life Itself right now. Two documentaries about people who love film. Watch The Graduate, watch The Godfather, There Will Be Blood, Double Indemnity, Sunset Boulevard, Battleship Potemkin. Watch those movies, and then watch yours. What do they do that you don't? Why do people love those movies, but not yours? If you are a fan of film- which you have to be in order to be a filmmaker- find out how to make a good movie by watching good movies. Don't copy them, but let them inspire you. If on the other hand you don't like movies, if you are just using film as a platform to spread a message and not because you love doing it, then you have no business making movies. Movies are art, just like painting or sculpting, and if you don't love the art of film then you've failed before you even started. But again, you do love film. That's why you are making movies, right? Learn how to make a good movie by watching good movies.
We want you to make movies, but we want you to make movies that can speak to everyone, not just Christians. We want you to challenge Christians, and make us think. We want you to do better because we know you can. You have an amazing opportunity to spread the Gospel and you're squandering it by making movies that just make Christians feel good about themselves. You don't have to stop making the kind of movies you're making now. Like I mentioned before, there is a Christian audience that just want to see feel-good moral tales to take their families to. Make those movies too. But you haven't been making movies, you've been making messages. Fireproof, Courageous, God's Not Dead, A Matter of Faith, Do You Believe?, etc. You are trying to teach with your movies, but no one's going to learn if we already know the answers. You have such an amazing platform and you're wasting it. Please, do better. You can do it, you've just got to try. If you continue on the path you're on, your movies aren't going to help anyone. You were given millions of dollars and you might as well make a cardboard sign that says, "We're right and everyone else is wrong!" because that's the message your movies are sending. You can do better than that!