21 Jul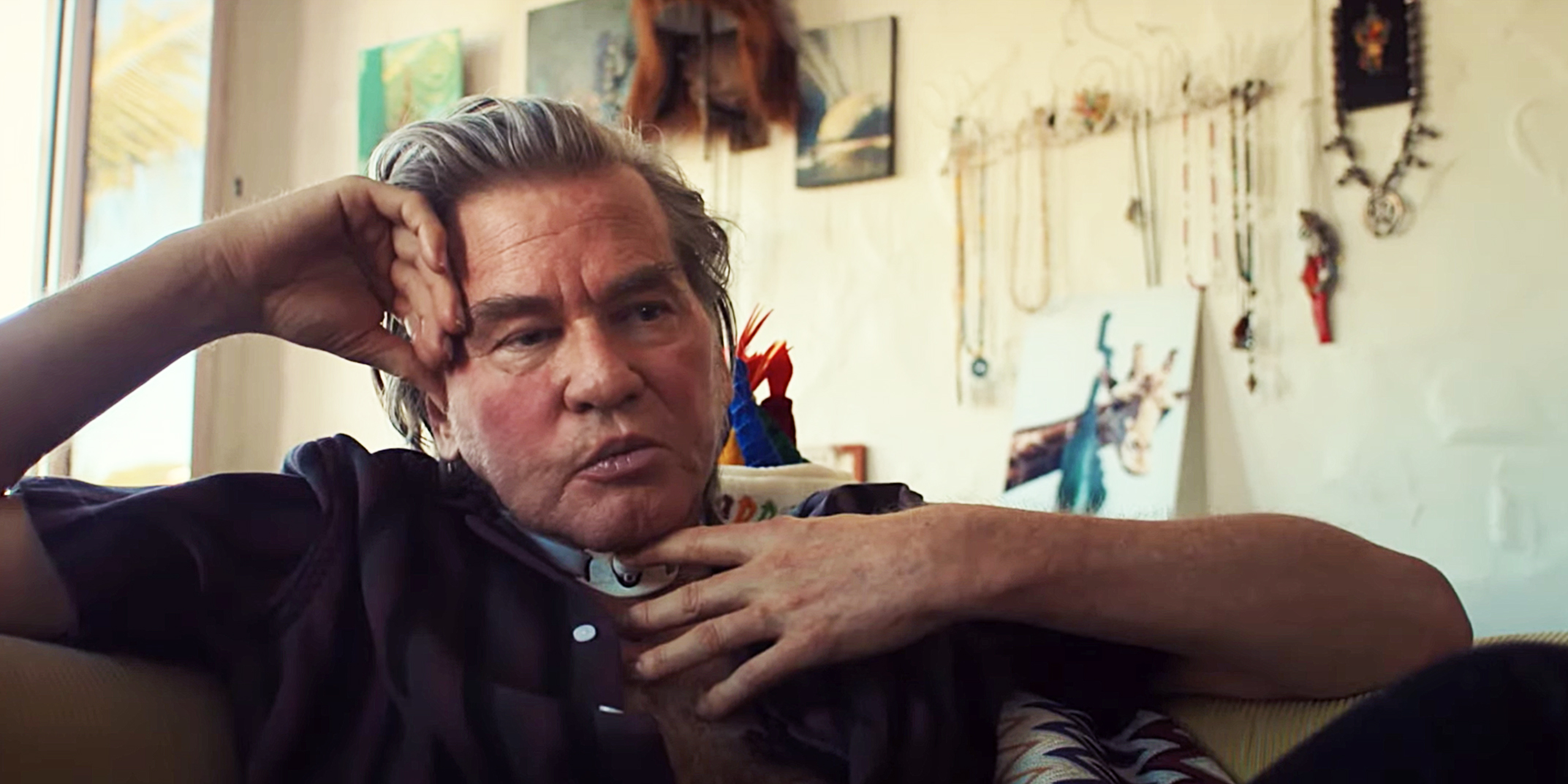 Thanks to technology and social media, today we are able to document as much of our lives as we please but long before smartphones or Instagram, Val Kilmer was shooting thousands of hours of footage on film and video from a very young age. Having recently survived a throat cancer diagnosis that has left him needing a tracheostomy tube to breathe and speak, he is using that material to tell the story he has long wanted to tell about acting and about the "line between truth and illusion." Directors Ting Poo and Leo Scott have taken the actor's treasure trove of footage and crafted a fascinating and moving look at Kilmer's life.
Like so many other actors and filmmakers, Kilmer began making childhood movies in his own home. He'd spend countless hours shooting with his two brothers, making a parody of Jaws among other things. Still, it was a childhood with more than its share of sadness due to his father's affairs leading to his parents' divorce and the tragic death of his brother Wesley at just 15. All the while, he was proving he was a special talent on stage, becoming the youngest person ever accepted to Juilliard. The bar was set remarkably high incredibly early in his life and what's followed in the decades since has made for a pretty amazing story.
With narration written by Kilmer and delivered by his son Jack, Val is decidedly not a vanity project, with Kilmer being very open and truthful about the many ups and downs of his life and career. Bringing a true dedication to the craft from the start, Kilmer discusses the time he put into learning to play the guitar for his first film, Top Secret! and the highly detailed backstory he created for the character of Iceman in Top Gun. His video footage from the location shooting of Top Gun in San Diego shows what a joyful experience making a movie can be while the material shot during The Island of Dr. Moreau ten years later illustrates conversely what a nightmare it can end up being. In this way, Val reminded me of the highly entertaining memoir written by Richard E. Grant, With Nails. Grant reveals through his writing what Kilmer captures with his camera. Making L.A. Story with Steve Martin comes across as pure joy while the filming of Hudson Hawk that same year seems to be some form of torment devised by a soulless monster. While there may not always be a correlation between the process of making a movie and the end result, both Val and With Nails show that sometimes there is.
Val shows us the joy, pain, and sense of unfinished business wrapped up within its subject. Looking back, Kilmer conveys a sense of sadness over his experience as Batman, describing how the design of the Batsuit made acting nearly impossible. Unable to hear well while wearing it, people eventually would just stop talking to him, making him feel incredibly isolated. "Every boy wants to be Batman," he says. "They actually want to BE him. They don't necessarily want to play him in a movie." The lengths of his dedication also put a great strain on his marriage to actress Joanne Whalley as he poured every piece of himself into the role of Jim Morrison.
Kilmer is not asking for anyone's pity or trying to have himself painted in only the most positive light possible. He's simply being vulnerable and we can see from the many clips of his personal video material, that's always been a part of who Val Kilmer is. It's heartbreaking to see him draped under a blanket sitting in a wheelchair at a fan convention after his throat cancer surgery. There's a double-edged sword to traveling the country now to sign autographs. While he feels a great sadness over the fact that it's due to a life he no longer lives, he is also profoundly grateful for the opportunity to meet fans who have been truly touched by his work over the years.
Val accomplishes what Kilmer hoped, which is to tell the story of being an actor. However, it is much more about the life of an actor than the job itself. It's about devotion to family more than it is about commitment to craft. It's safe to say that the greatest happiness Val Kilmer has gotten as a result of his nearly 40-year professional career are the two children he had with Joanne Whalley. While speaking is now difficult for him, the look of pure delight on his face around his son and daughter shines through and no words are necessary.
If you're already a fan of Val Kilmer's then Val will not disappoint you in the least. If you aren't then this will definitely turn you into one. This is a highly engaging look into the life of someone who was born to be an actor and loves the art with all of his soul. Val opens in select cities on July 23 and comes to Amazon Prime August 6.