13 Dec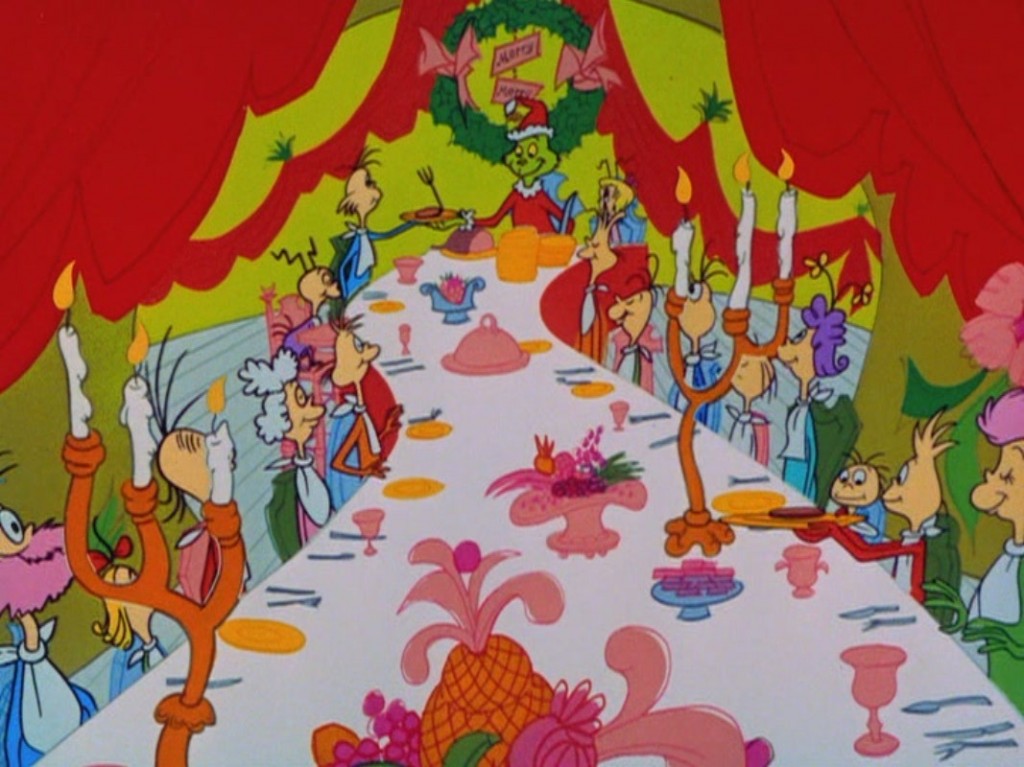 Some time ago, evidently while most of us were sleeping, somebody snuck into our world and stole Christmas away. Some of us realized it sooner than others, but more and more of us are noticing it as years go by.
We're not quite sure who this little "Grinch" was that came in and snatched our beloved Christmas from us. Some believe it was those evil retail marketers who, in an effort to increase their profits, steadily commercialized Christmas so that now all the holiday amounts to is the acquiring of gifts we don't really need often given to people more out of obligation than genuine goodwill. Some people blame the non-religious, whose continual efforts to remove religious symbolism from the celebration of the season has diluted the "real reason" for the season and caused it to become nothing more than a hollow cultural ritual (except to those people who really "know what's going on" of course). There are dozens of other suspected culprits whispered about in homes across America (suspects as vague as "a general apathy" and as specific as "President Barack Obama"). There is only one thing on which nearly everyone agrees…
Christmas is not what it used to be. And somebody's responsible.
I never used to consider Dr. Seuss a prophet, but perhaps there was something more in his gleeful little fable about the Whos down in Whoville and the nastier-than-a-seasick-crocodile Grinch who lived above them than I picked up on as a child. You know the story I'm referring to right? That brilliant little masterpiece directed by Chuck Jones and narrated by Boris "Frankenstein" Karloff in 1966? Now while I think the Ron Howard live-action version starring Jim Carrey is a lot of fun and I genuinely enjoy it, it adds a disturbing element to the story where the Whos are partly responsible for the Grinch's Grinchiness, and I believe that in doing so, they missed a huge part of the point of the Seuss original and the animated adaptation.
In the animated version, the Grinch hates Christmas for reasons unknown, though it is highly suspected that the reason involves a heart problem (specifically a heart "size" problem). And he determines one Christmas Eve to pose as Santa Claus and snatch all evidence of holiday cheer and charm from the unsuspecting Whos. He's successful to an extent: he manages to steal all forms of presents, food, and decorations, leaving only gnarled twine and a scattering of pine needles.
Now, when the Whos awaken on Christmas morning, they have a distinct reaction to the catastrophe that I'm sure you'll remember unless you've absolutely never seen it. But before we reflect on their reaction, let's take a second to consider our own reaction to such a turn of events. Because if you haven't realized it already, I'll spell it out for you:
We're the Whos. You. Me. We. Whos, one and all. And we woke up one morning to realize that Christmas had been snatched right out from under us.
Many of us have been complaining about this for a while. Some of us have sworn revenge and vowed that we will bring Christmas back if it kills us. Many of us have begun to pout, growing resentful and even bitter at the sour reality of things "not being the same anymore." We're depressed, we're stressed, and a frightening number of us honestly can't wait for the season to be over. The Grinch got us.
But, as the Grinch learns in the classic Seuss story, his efforts at stealing Christmas were ultimately in vain. The sounds of wailing and moaning he expected are the joyful sounds of singing instead. He realizes for the first time that perhaps Christmas is not about anything superficial, maybe not even about anything physical at all. And with this realization, the Grinch's hearts grows three sizes and he has no choice but to join in the song.
Maybe it's not so much that Christmas has been stolen away from us, as it is that we've been kidnapped and that Christmas is still where it always was. For if Christmas holds any sacred place in our heart (whether through the celebration of Christ's birth or the long-cherished traditions of family and childhood) it would do us a significant bit of good to remember that whatever we consider to be the "reason for the season," that reason is most certainly not about us.
I would encourage you right now to take a very deep breath. For a moment, forget about whether or not you can buy presents or whether or not you should or where you will find them. For a moment, ignore the debate over its origins and whether or not we should display nativities or tell Santa Claus stories. For just a second, try to forget all the strain in your relationships and the pressure to be friendly to people you don't really like. Take just one deep breath and listen closely. Because there are other sounds beneath the complaints and the busy-ness and the honking of horns in traffic jams.
Dr. Seuss is absolutely right. Christmas is a matter of hearts and heart sizes. And if, by some persistent misfortune, your heart has been beaten down; if, by some profound disappoint, your heart has shriveled within you; if, by some intense and constant stress, your heart has grown brittle and fragile, I want to tell you that Christmas is the seasons where hearts can change. And Christmas has never left us. It hasn't been stolen away because you can't steal what's already free.
So listen closely this year. Beneath all the noise of complaints and the hurry of shopping; beneath all the clatter of family tensions and the speeches about how it all used to be; beneath the constant hum and buzz of a thousand dull electronic devices from light bulbs to iPads, you might just hear the distant cry of a newborn baby and a song urging us all to "sleep in Heavenly peace."
May your heart grow three sizes at the sound, and may you have a very merry Christmas indeed.